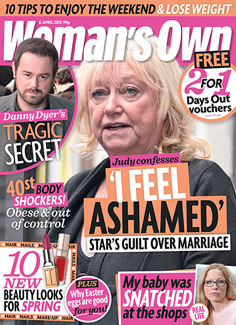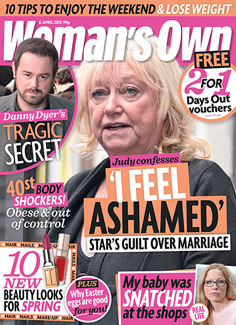 The new issue of Woman's Own is out now! 

This week, find out why Judy is feeling guilty about her marriage, we reveal Danny Dyer's tragic secret, the 40st body shockers that are out of control, PLUS the terrifying true life story about the woman whose baby was snatched at the shop.

PLUS, more remarkable real life stories, the best beauty buys on the high street, why easter eggs are actually good for you and fab money-saving 2-4-1 offers on family days out.

Summer's just around the corner and we show you how to impress your guests with zingy limoncello pots for under £2 a serving, plus Poldark-inspired beach retreats to Cornwall.

AND DON'T FORGET all your usual favourites, including your emotional health questions answered, weekly puzzles and TV gossip, including behind the scenes with Richard Arnold.

All this and more in the latest issue – pick up your copy of Woman's Own now!