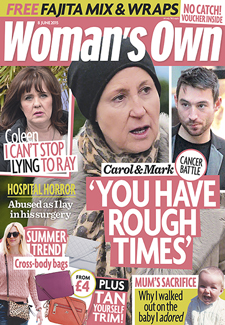 The new issue of Woman's Own is out now! 
In the mag this week, Carol McGiffin opens up about life after her battle with breast cancer, Gregg Wallace is in trouble with fiance number four, we get up close and personal with Sunrise newsreader Isabel Webster, we've got an exclusive interview with Emmerdale's Gemma Oaten and Coleen Nolan admits she's sending her husband mad…
PLUS, remarkable real life stories, discover great value fashion on the high street right now, we look at the changing faces of the Kardashian clan, the latest Summer slimming trends and rate the best fake tans – tried and tested by us!
We bring you the best way to lose five pounds by the weekend, the seven health tests you need to do today, recipes for quick no-cook sweet treats, and amazing supermarket deals and new foodie finds in our food news section!
PLUS pick up your free Santa Maria fajita mix and tortillas exclusively in this week's issue and go Mexican this tea time!
All this and more in the latest issue – pick up your copy of Woman's Own now!