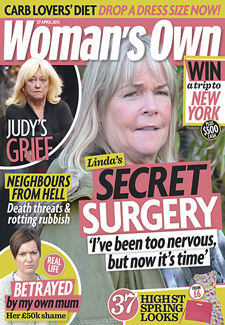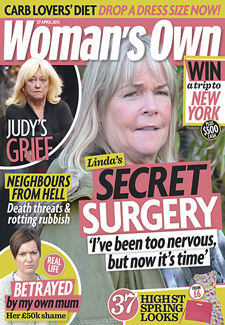 The new issue of Woman's Own is out now! 

This week, Linda Robson reveals her secret surgery plans, Judy Finnigan's grief as the anniversary of her friend's death approaches, we've got 12 things you didn't know about the royal birth, Downton Abbey actress Samantha Bond chats to us exclusively, and Michelle Mone spills the beans on her celebrity lifestyle…

PLUS, remarkable real life stories, discover the best buys on the high street now, we reveal the perfect products to get you ready for summer and share all the latest beauty news!

All this as well as the amazing diet that allows you to eat pasta and potatoes – leaving you feeling full after every meal- and still help you lose weight, the best buys for your home, delicious recipes, and our smart shopper is back again this week with advice on how to get the best phone deal.

All this and more in the latest issue – pick up your copy of Woman's Own now!