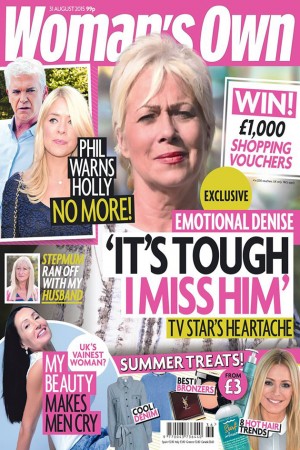 In our brand new issue of Woman's Own, we've got the scoop on whether Phillip Schofield quitting 'This Morning' is a potential for the near future!
They've only just been reunited as they prepare for their comeback in September, but Holly and Phil may not be on our screens for much longer if Holly gets pregnant again – because Phil has said he would consider quitting! In this week's Woman's Own magazine, Phillip confesses he has missed his 'This Morning' co-star whilst she's been away on maternity leave and he's not willing to lose her again, "she's not having any more babies!" the presenter said.
He's admitted that if Holly was to leave again, he'd consider quitting, "If she decided not to come back I'd have had to rethink my own position,' he said. 'If Holly had said, I'm going, I'd have had to think seriously about whether I wanted to go on'.
Can you imagine Phillip Schofield quitting? And no more Holly? We hope it doesn't happen! Read the rest of the story in this week's brand new issue…

PLUS, remarkable real life stories, the best buys for your home, new delicious recipes, and our smart shopper is back again this week with money-saving advice for soon-to-be students…
All this and more in the latest issue – pick up your copy of Woman's Own now!