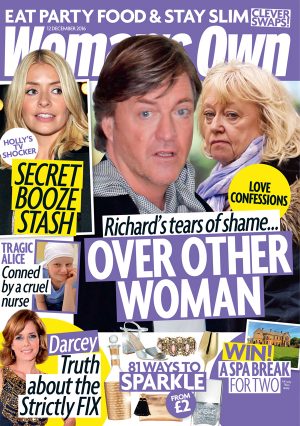 Adele is rumoured to be tying the knot with long-term partner Simon Konecki in a LA ceremony this Christmas. And while the big day itself is set to be a low-key affair, one long-time soap star has made it onto the exclusive guest list.
It's reported that Sid Owen will be cooking up a storm to keep guests fuelled up after the chart topper says 'I do'.
While the seasoned Eastenders actor seems like an unlikely choice for chef du jour, he did make it to the Celebrity Masterchef final!
"Only a few of their closest friends will be there, but Sid will be involved," said a source.
Ricky Butcher serving up some slap up fayre at Adele's wedding. You couldn't make it up!
Adele's wedding and more – only in this week's new issue!
To read the full story, and all the latest celebrity gossip, pick up the brand new issue of Woman's Own.
Also, read our our exclusive interview with Strictly's Darcy Bussell. And find the statement fashion pieces that will make Christmas. In addition, enjoy all your usual favourites, including your emotional health questions answered, weekly puzzles, and TV gossip and more!
All this and more in the latest issue – pick up your copy of Woman's Own now!
So why not visit our Facebook page in the meantime. You'll find celebrity news, amazing baking ideas, fun quizzes and more!
Join us as a subscriber from just £7 every three months. You'll pay only 56p per issue, with the price guaranteed for at least 12 months. Click here to find out more!