The Loose Women returned to our screens as they do every lunchtime this past Tuesday, to bring us the gossip and debate we all look forward to come 12.30.
But this time, the panellists had a surprise guest in tow – their brand new Loose Women panellist!
Actress Kacey Ainsworth joined the daytime show for the very first time this week, and was announced by today's host Andrea McLean as the newest face to join the panel.
You may recognise the new Loose Women panellist, as she is no stranger to our TV screens.
Kacey entered the showbiz world back in 2000, when she joined BBC show Eastenders to play Mo Slater. She was given one of most talked about and controversial storylines the series had ever seen at the time, as her character suffered at the hands of domestic abuse from her husband, Trevor Morgan.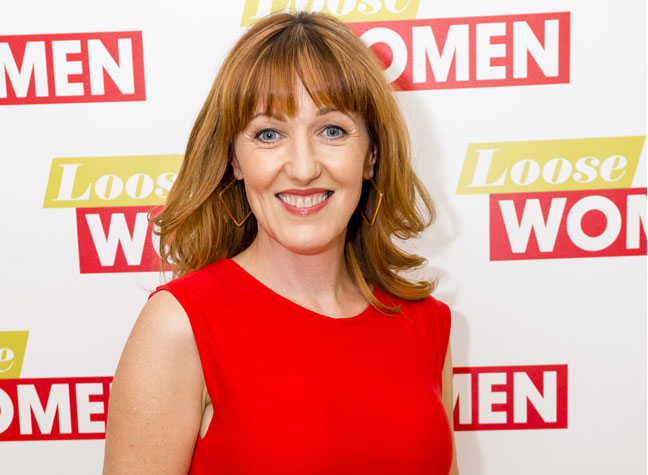 Kacey opted for a gorgeous red dress for her first appearance on the 60-minute ITV show
48-year-old Kacey's personal life has been decidely less tumultous. The star lives a relatively normal life with her long-term partner Darren Hales.
Chatting about her turn on the Loose Women panel, Kacey admitted she's excited about showing off her real personality. She said, "I'm very excited to throw off my timid behaviour and become, 'loose'!"
Kacey was welcomed to the ITV programme with a bit of a throwback to the past too, as Andrea played her very first scene on Eastenders – leaving Kacey a little red-faced.
Speaking about her 6-year turn on the soap, she also revealed just how relentless the pace of the show was. She jokingly admitted, "I don't know how I did it. 6 days a week, 12 hours a day and being that miserable!"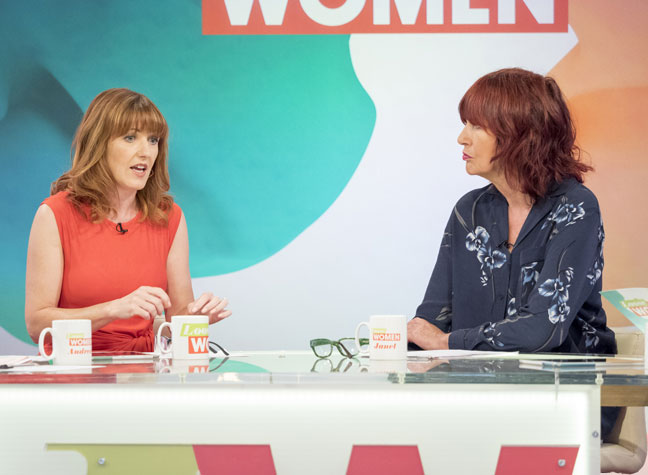 (Kacey Ainsworth and Janet Street Porter)
And while you might recognise her most from Eastenders, Kacey has also made some appearances in some of our favourite shows over the years, including Call the Midwife, Grantchester, and Holby City.
She's played Cathy Keating in all three seasons of the ITV series Grantchester, who was Geordie Keating's wife. The character enjoyed a relatively happy time on the series, until the tragic loss of one of her babies with Geordie.
She also took part in one episode of Call the Midwife, as a mentally disabled character who had been sterilised without her consent.
Fans were clearly pleased to see Kacey back on their screens, with one calling her a "great addition"
Kacey was also quick to open up during her very first episode of the show, as she honestly discussed her experience with grooming when she was just eight years old.
She confessed, "I was starting puberty. They were touching areas that were growing. That felt odd and weird."
The new panellist was praised for her open admission by viewers, with one stating how she would help a lot of people by being so brave and honest about her own ordeal.
It's not yet known whether Kacey will be a permanent addition to the panel, or whether she will instead appear more infrequently as a regular guest.
FROM: Woman & Home, our sister site