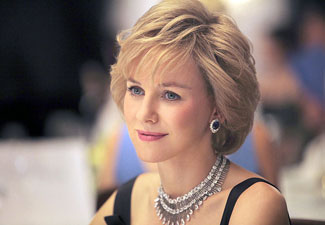 Aussie actress Naomi Watts is set to portray Diana, Princess of Wales in a biographical movie of the last two years of her life – due out later this year
 In August 1997 the world was dealt a shocking blow when 'the people's princess' Diana died in a car crash. Now, 16 years on, the first official trailer was released today.
Although we see Naomi walk in the footsteps of the Princess taking on landmines, escaping the paparazzi and her role as UN Goodwill Ambassador, the film focuses mainly on Princess Diana's secret love affair with Dr Hasnat Khan and her high-profile relationship with Dodi Al Fayed.
When asked about the effects the film may have on Princes William and Harry, Watts told News.com.au: 'We're not trying to destroy her memory. We're trying to show her in the best possible light as a human being, though, full of different layers. It's a story that should be told. A piece of history. But it's tricky because they are here, the boys. I think about that a lot.' Take a peek at the trailer below
Will you be watching the movie when it comes out?