In the aftermath of devastation, there are always admirable and brave people who come together to help.
And following the attack on the Manchester MEN Arena late on Monday the 22nd May, people from around the city of Manchester have been rallying together to help those affected by the horrific incident.
One such lady is Paula Robinson, who began posting updates to social media to lend a hand following the Ariana Grande concert.
Shortly after the explosion was heard, Paula posted an update to her Facebook account to explain that she had taken around 50 children from the concert who were unable to locate a parent or guardian to a local Holiday Inn, emploring them to get in touch with her on her mobile number.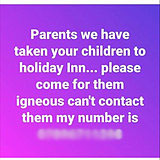 In an earlier Facebook post, she wrote,  "Please re-post for any parents with children at [Manchester Arena]. We have taken as many kids as we can to Holiday Inn. We will keep them safe and stay with them,"
And people started to spread the message far and wide, including Coronation Street actress Brooke Vincent
The city continued to respond to the devastating attacks, with taxi drivers offering lifts to anyone who needed to get somewhere. The offer is even more essential, given that Victoria Station, which is in close proximity to the arena, has been closed, with no trains in or out of the station.
People around the city are even offering a couch or a bed to survivors and concert-goers to sleep on for the night, sparking the hashtag #roomsformanchester.
Reporters on Sky News also spoke to a man who had been buying hot meals for people at the scene.
The Manchester Evening News also reported that several hotels and venues around the city were offering up rooms and space to look after people – especially young people – who were not able to travel out of the city during the night.
Coronation Street actress Brooke Vincent also tweeted the numbers for people to call if they are still looking for family members.
From Woman & Home, our sister site.