This woman took herself on a date and had the time of her life.
Getting back on the dating scene can be a nervous prospect enough. So imagine how you'd feel if you were stood up, not once, not twice, but three times!
Well this is exactly the scenario that played out for 31-year old Tinder user Laura Bull after she swiped right in the hopes of meeting her dream love match.

Speaking to the Mail Online, Queenslander Laura – who's mum to an 11-month-old and four-year-old –  revealed that instead of feeling sorry for herself following the last-minute cancellations, she decided to take action, and cheer herself up in the best possible way.
'This is the third time I have had a date cancel last minute – one didn't even let me know – but instead of letting it upset me I got dressed up and took myself out,' she explained.
Inspirational Laura committed to taking herself on 'self-date', touring the Gold Coast's hottest spots on an amazing multi-stop date to remember.
First stop was a spot of lunch at Gold Coast's Eumundi Markets – home to an impressive selection of
food
stalls. She then spent some downtime listening to live music in a local park – who needs love ballads anyway?

Next stop was a back-to-nature barefoot walk through Noosa national park….

Followed by accidentally stumbling into a nudist beach – proof that going solo is anything but a dull alternative!

Back at the public beach Laura opted for a refreshing early evening swim. And as light began to fade this intrepid dater realised that the sun had far from set on her epic date.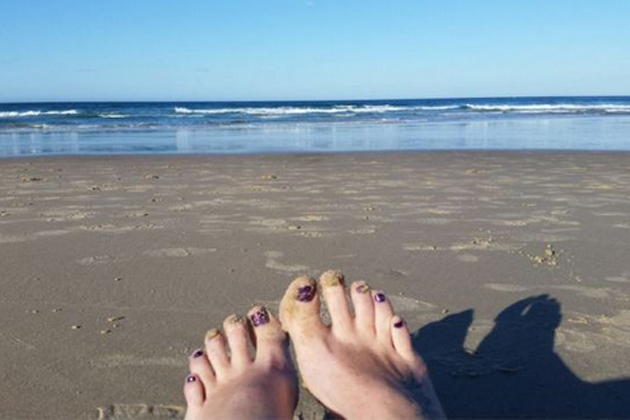 'I was going to go home but I decided to take myself out for dinner… why not?' she said, before continuing: 'I went to a restaurant in the middle of Noosa with a big balcony and the waitress was actually quite rude… she looked at me like I was speaking another language when I said I wanted a table for one.'
Once in the hands of a new waiter Laura promptly ordered a meal for one, taking in the stunning views from an outside table.
And for the perfect way to end a memorable evening, this self-dater took a moonlight walk along the
beach
.

Reflecting on her self-date. Laura said: 'So moral of my self date and sharing my journey with you all is… just because you get stood up or plans cancelled don't be disappointed, take yourself on your own adventure,' before adding. 'Enjoy some you time because you are wonderful!! Much love'.
Laura we salute you!
Would you do the same in Laura's position? Join the conversation on our Facebook page.


Grab some tissues, things are about to get emotional...

This marriage started and ended in a single day, and you won't believe the reasons why!