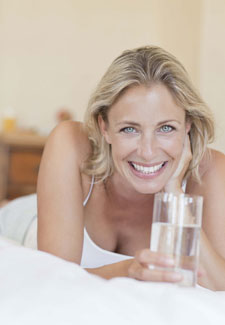 Losing weight can make your face look gaunt and add years. This 10-day skin-boosting plan will help you shed pounds, while making your skin, nails and hair look fantastic.

The Diet

Low in calories but high in nutrients, this meal plan will help you drop pounds quickly and look younger in no time.

Food DON'Ts

–        Biscuits or cakes

–        Pastries of any kind

–        Crisps or packet/finger snacks

–        Black tea – it robs the body of iron

 

Food DOs

–        2pt water every day – pour into a jug and add a sliced orange

–        As much spinach (cooked or raw) and watercress as you can eat – at least twice a day

–        At least 2 servings lightly cooked carrots and broccoli a day

–        At least 1pt milk, skimmed or semi-skimmed a day – on its own, as a smoothie or as a milky coffee OR low-fat hot chocolate or Horlicks

–        1 plain 1 percent-fat yogurt every day

–        1 serving fish a day

–        1 egg every day

–        Handful of mixed walnuts, pumpkin seeds and sesame seeds, sprinkled into yogurt or try Linwoods Milled Flaxseed, Almonds, Brazil Nuts and Walnuts & Q10, £5.99 for 360g, stirred into plain yogurt.

 

Breakfasts

120g-pot fat-free yogurt with 1tbsp Linwoods mix (see above) or handful of any nuts and seeds stirred in. Plus, at least one of the following:

–        2 eggs

–        1 slice bacon or ham

–        Kippers or smoked salmon (or any other fish or meat)

–        180g low-fat cottage cheese

 

Lunch

Minimum 120g any meat, fish, eggs, poultry OR 180g low-fat cottage cheese. Have any veg or salad on the side. For dessert, low-fat yogurt, sorbet, custard OR rice pudding. Eat with any orange fruit, such as papaya or mango.

 

Dinners

–        Small steak and salad

–        Stir-fry made with 180g salmon, poached or grilled, with steamed vegetables

–        Bolognaise sauce with 1tbsp parmesan (no pasta) with spinach salad

–        180g stir-fried chicken with lots of colourful veg

For further information on our diet club, and to get a free 7-day membership, go to Woman's Own Diets.