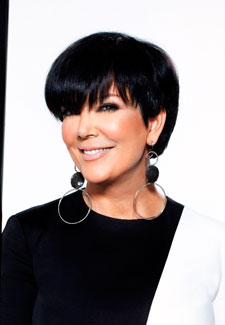 No-one does all-out glamour like the Kardashian clan (or should that be klan?). Make-up artist Lyndsey Harrison shares her tips and tricks on how to get the Kim and Kris look whatever your age. Which one will you choose?
Kim Kardashian (30s and 40s) 


Step 1 – Part of Kim's signature look is an immaculate base, so getting this right is essential. Start with Armani foundation, although if you're on a tighter budget try Rimmel Match Perfect Foundation, £6.99. Both foundations give perfect coverage but leave a dewy glow.

Step 2 – All of Kardashian girls love to contour and it's really easy to master this classic trick. The good thing about contouring is that you can go as dramatic or subtle as you want. For any age skin, I would use Nars Bronzing Powder in Irresistiblement, £26. It's lovely and warm, and great for the summer. Use this just in the hollows of your cheeks with an angled brush. Use what you have left on the brush to dust round your hair line and jaw and then the tip of the nose.

Step 3 – Start by priming the eye lid with Mac Paint Pot in Painterly, £14.50. Then use a pencil brush and go over the eye lid using Naked Lunch Eye Shadow by Mac, £12, starting from the inner corner and working out across the lid.

Step 4 – Use Mac Technakohl Liner in Brownboarder, £14, to line the top lid and work out to a flick. Don't be afraid to give yourself quite a thick line as we want it to stand out and as it's a brown pencil you can go a bit more dramatic than you would normally.

Now using a blending brush contour your socket with Mac Eye Shadow in Bronze, £12. From where the flick finishes to the inner corner of your eye, sweep backwards and forwards, keeping the brush in the same position so that you don't discolour the eyeshadow on your lid.

Next using a flat brush and the Bronze eyeshadow line underneath your eye and then blend.

Complete the look with lashings of mascara. My favourite is Mac Dazzle Lash, £14. Apply lashes if you want a more dramatic look!

Step 5 – Apply Estee Lauder Double Wear Stay-in-Place Lip Liner in Spice, £16, topped off with gloss.
Kris Jenner (50s and 60s)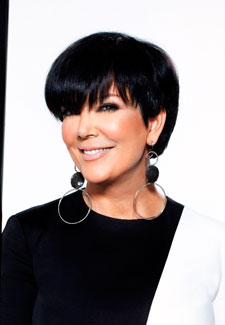 Step 1 – Estee Lauder Double Wear Light Stay-In-Place Foundation, £27.50, is brilliant on mature skin and most importantly it glides on really well. Kris's skin always looks amazing and the modern formulas and ingredients of some of the better foundations don't exacerbate fine lines and wrinkles like they used to.

Step 2 – Contouring (as above)

TIP: if you want to narrow the nose, dust either side of it lightly leaving the front lighter

Step 3 – Kris and Kim look like they are wearing similar eye makeup, but for everyday wear I'd suggest that older age groups go softer when applying eye make up. You can wear similar colour and shading as for Kim's look above, but apply with a lighter hand – the results will still be stunning, but appear slightly softer.

Step 4 – Kris has used black eyeliner over the top of the brown to make her look even more dramatic – this is simple to do as you can use the brown line to act as a guide. Try using Rimmel Glam'Eyes Liquid Eyeliner, £5.29.

Step 5 – Kris and Kim have both opted to go for a subtle lip colour – for a similar colour to Kris, opt for Rimmel's Lasting Finish 1000 in Tirimisu, £4.99, and top with Bobbi Brown Sheer Colour Lip Gloss in Cabana Coral, £17.

 

Keeping Up With The Kardashians Season 7 is out on DVD from June 24th (available on pre-order now at Amazon)