The reader: Jo Harman, 40, from Orpington, Kent.
The problem: Jo tends to put comfort before fashion. She is always in jeans and this is making her feel frumpy! She said: 'Please help me out of my boring routine and show me how to dress to impress.'
The solution: We made Jo leave her trusty jeans behind and slip into this gorgeous animal print dress. The classic cut shows off her figure whilst the embellished collar is so on trend.
GET THE LOOK
Try these brilliant buys to steal Jo's new makeover style!

Top, £30, 6-22, Dorothy Perkins Skirt £7, 8-22, Primark Shoes, £38, Next Belt, £12, Accessorize
By Jessica Beech/Styling by Fiona Reardon
Like this? Try this: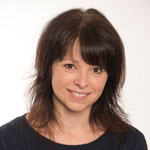 Reader makeover: A sleek new 'do Tamara wanted a sleek new haircut. See the results here.