Fed up of slathering on face creams to try and get younger skin?
Meet Fountain: The Beauty Molecule – the revolutionary product that's changing the way we battle wrinkles!
This change from anti-ageing lotions to potions is down to The Beauty Molecule's key ingredient, resveratrol.
This anti-oxidant, famed for its ability to delay the ageing process, is promised to be more absorbent and effective when drunk as a liquid. They recommend you take just 1 teaspoon a day and it costs £24.99 per bottle.

It seems there is nothing this hero ingredient can't do.
It fights wrinkles, boosts overall health and is even shown to ward of deadly forms off skin cancer according to a recent study.
Some scientists are skeptical about how effective it is, but there's no denying it has sent the beauty industry into a frenzy.
So, will you be reaching for the bottle?

 

 

 

 

 

 

Like this? Try this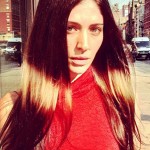 Dip-Dye? It's all about splashlights! Will you be trying the new trend?