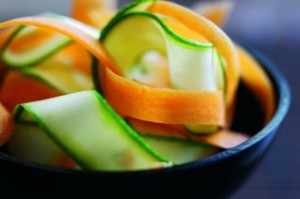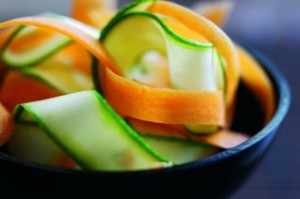 Eating colourful fruit and veg can really make you feel great and you can keep up the goal weight loss of 1-2 lb per week.

Choose one breakfast, lunch, dinner and snack daily. Your aim should be to get at least one serving each of red, purple, orange/yellow and green foods every day.

Drink 300ml skimmed milk daily in addition to any milk mentioned in the meal plans. If you are still hungry, fill up on a dark green leaf and tomato salad with a splash of lemon juice or balsamic vinegar. Or eat some colourful pepper strips, a bowl of strawberries or some cantaloupe.

 
Breakfasts
Peanut butter toast & mixed berries: Spread 1 slice of wholemeal toast with 1 tsp peanut butter. team with a bowl of blueberries and strawberries topped with 1 heaped tbsp full-fat Greek yogurt

Extra fruity muesli: Serve 40g bowl of sugar-free fruit and nut muesli with 125ml skimmed milk topped with 1/2 mango chopped into chunks

Eggy bread & tomatoes: Soak 1 slice of bread in 1 beaten egg and a little skimmed milk. Fry for 1-2 mins in a little sprat oil and serve with 2 grilled tomatoes

Lunch
Colourful Caesar salad: Scatter one chopped, warm skinless chicken breast over spinach, watercress and cherry tomatoes, and dress with 1 tsp reduced-fat Caesar dressing, 1tbsp Parmesan and a crumbled Ryvita

Crunchy beany salad and a roll: Chopped red peppers, carrot and tinned sweetcorn served with 1 heaped tbsp of reduced-fat houmous, 1 wholemeal roll and 2 tbsp canned bean salad

Sardines on toast: Small tin of sardines on a slice of wholemeal toast, with tomato and bagged green salad leaves. Follow with an orange

Dinner
 Steak, veg and noodles: Top 150g cooked egg noodles, with 140g lean steak stir-fried with red and yellow peppers. Add soy or Worcestershire sauce. Plus a bowl of frozen berries with sweetener

Veggie chilli: Fry 1 small red onion, 1/2 aubergine, 1 courgette and 2 carrots until soft in 2tsp of olive oil. Add chilli powder to taste, cook for a few mins then add 1/2 tin red kidney beans, 1/2 tin chopped tomatoes, 1tbsp tomato puree and a little water. Simmer until hot. Serve with 4tbsp cooked brown rice. Have a bowl of raspberries as dessert.

Chicken, salsa and a jacket potato:1 small chicken breast topped with 3tbsp salsa. Serve with a small jacket potato and rocket. Plus a couple of kiwi fruit

Snacks
 2 slices of mango, 2 kiwi fruit

Bowl of frozen berries with 2 small scoops of low-fat ice cream

1tbsp reduced-fat houmous and 2 breadsticks with cherry tomatoes
A rainbow of goodness

Purple:Blueberries, blackcurrants, blackberries, raisins, prunes, grapes, raspberries, plums, aubergines, cherries

Rich in: Anthocyanins, vitamin C

Benefits: Important for brain health, firm skin, strong arteries

 

Red: Tomatoes, red peppers, strawberries, pomegranates, red apples, pink grapefruit, watermelon, cranberry juice

Rich in: Lycopene, proanthocyanidins, ellagic acid, flavonols

Benefits: Could help protect against heart attacks and strokes

 

Orange: Carrots, mangoes, butternut squash, sweet potatoes, papaya, oranges, yellow and orange peppers, sweetcorn

Rich in: Cartenoids, flavonoids, vitamin C

Benefits: Immune system, possible cancer and heart disease protection

 

Green: Broccoli,  leafy greens like watercress and spinach, courgette, kiwi

Rich in: Lutein, vitamin C, folic acid, iron, glucosinolates

Benefits: Prevents anaemia, may boost protection against cancer and age-related macular degeneration, which can cause blindness