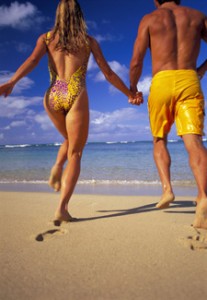 If you're tying the knot this year and are about to book your dream holiday, you could save a packet with this advice from guest expert, Kara Segedin from Cheapflights.co.uk.

Travel in shoulder season This is between low and high seasons and can be great for people with an eye on their wallet who still want to bag a great holiday with decent weather.

If you fancy the Med, you can still get sun in mid to late September and early October if you pick wisely. Post Easter, from mid-April onwards, prices in the Caribbean start to fall, so you can begin to take advantage.

You might get some rain, but this tends to pass quickly and you'll still get temperatures in the 70s and 80s (20s to early 30s Celsius). Mid November to mid December might also be worth considering ahead of the crowds.

Book last minute Opting for a last-minute break can be a useful money-saving tactic if you're prepared to be flexible on destinations and you're less concerned about when you go – for example, if you decide to put the honeymoon off until significantly after the wedding.

Typically, the best last-minute savings are around six weeks before you're due to travel. The big discounts here are on packages rather than flights, and there are great deals to be had if you're prepared to be flexible and less specific about which hotel you opt for.

Consider different accommodation options Hotels and swanky resorts can be über-expensive. However, serviced apartments are a great idea if you'd like a city centre honeymoon at a fraction of the cost.

Turn on the charm If you're looking for free extras, a lot of this is worth doing well in advance. If you're dealing with a travel operator over the phone, bear in mind agents can often put comments and requests on the booking, so it's certainly worth being nice and seeing if you can get your honeymoon mentioned.

It's not unheard of for brides to take their wedding dress as hand luggage to get the odd flight upgrade. It's certainly worth weaving your wedding into the conversation at the check-in desk and being super nice. And if the hotel isn't at full capacity, there is certainly scope for room and board upgrades.

But if this isn't an option, hotels are often good with the smaller honeymoon touches such as free bubbly, spa treatments, chocolates, flowers and fruit baskets – all for the right (and polite) couple.

Don't mention your honeymoon straightaway It might be worth making your initial booking online to get the best deal and then mentioning your honeymoon at a later date when you contact the hotel directly. A direct follow-up call to the hotel is also a good opportunity to have a discreet conversation about upgrades.

The bottom line for honeymooners on a budget – do your research, compare prices online – and don't be afraid to negotiate on those special extras.

 

HAVE YOUR SAY! Have you got more advice to offer on this subject? If so, make sure you add a comment in the box below. Plus, if you've got a great money saving tip, send it to our money expert for a chance to win £25!