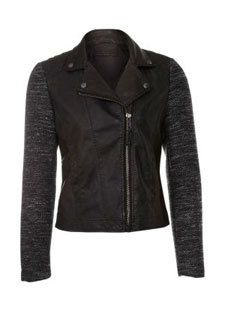 Q: I am 50, but don't look it and I want to buy one of the faux leather biker jackets that are in the shops. I have been told by my children that I am too old to wear one! Can you suggest where I can get a more grown up style. 

Jean Simmons, Margate, Kent

A: I am sorry to hear that but I don't think you're too old to wear a biker jacket – it just has to be the right style.  Steer away from the cropped, tight-fitting styles and go for something a little longer.

New Look, Next and Marks & Spencer all have styles that are longer in length, which make them look more stylish. My favourite is this one from New Look, £44.99 – it has boucle sleeves, which makes it look a little more chic and age appropriate than a regular biker jacket.

Fiona Reardon, Fashion Editor

 

HAVE YOUR SAY! Have you got more advice to offer on this question? If so, make sure you add a comment in the box below. If you've got a question for one of our experts, you can also post that below as well.