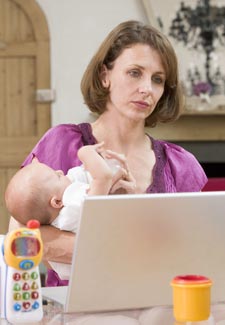 Q: My daughter has just had her first baby. I've stayed over a few times to cook, clean and play with my granddaughter Hannah because my daughter seems overwhelmed. She is tearful from the minute she wakes up and isn't enjoying motherhood as much as I thought she would. The baby is unsettled too. How can I help them both?

Terri, Reading

A: I want to praise you for paying attention to your gut feeling. Of course, you are already helping your daughter and Hannah but if your daughter is as tearful and overwhelmed as you say, she needs extra help, and the sooner she gets it the better.

Can you be there when she next sees her health visitor? They are often a very sympathetic port of call and can organise extra support in whatever form it's needed. Also visit the Post Natal Illness website, which offers a forum and one-to-one support via email or telephone.

Emma Marlin, Counsellor


 

HAVE YOUR SAY! Have you got more advice to offer on this question? If so, make sure you add a comment in the box below. If you've got a question for one of our experts, you can also post that below as well.