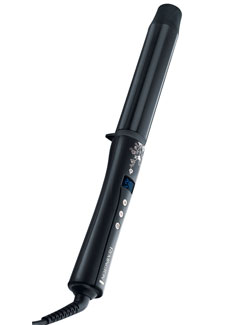 Q: I have straight hair and I'm always trying to add a curl. I've tried rollers but they take so long to put in and set. I'm looking for a good tong that will give a big bouncy curl. Can you help?
Helen Stewart, 41, Warwick
A: I'm a big fan of curling tongs. Not only do they give a gorgeous tousled feel, they provide volume at the root too.
If you're after a graduated curl (tighter at the bottom), choose a tapered wand, which gets thinner at the end. For big, bouncy curls choose a barrel of at least 32mm.
The Remington Pearl Pro Curl, £27.99,
Boots
, has a professional size barrel and a digital LCD display so you can control how hot the ceramic plates go. Plus, they don't have a clip – you just wrap your hair around the barrel – so they're super-easy to use.
Tesco also has a great new range of electrical hair tools, called T-H-X.
Their Wave Hello 32mm Tong, £27.94,
Tesco
, heats up in just 30 seconds and the long barrel is great for those with longer hair.
Stephanie Maylor, Beauty Editor