Here's 9 things we learnt about Mary Berry that confirms she is, without a doubt, our idol…
1) Mary Berry is used to winning awards – and she likes winning them too! The original 'star baker', Mary has stayed true to herself and her values throughout her whole career which includes the publication of over 70 cookbooks, ranging from Cakes, Cooking with Cheese and Freezer Cookery – wow!

2) Proving age really is just a number, despite being in her 80s, Mary Berry was named the 74th 'sexiest women in the world' by FHM – ahead of J-Lo and just one behind Angelina Jolie!

3) We love people who dress for themselves, in clothes that make them feel amazing – just like Mary. However the queen of the Victoria Sponge is also an unlikely style icon. A £29.99 jacket she wore from Zara sold out in hours and then some were even auctioned on eBay for up to £200! Kate who?

4) Mary knows the importance of friendship and has remained friends with the same people for decades, "We'd [her housemates in the 70s] each put £1 a week into the kitty for suppers and often entertained boys from a flat in Sydney Place…those boys are coming to my 80th birthday party this month."

5) She likes a nice glass of vino (or two!) – just like us…
She told The Guardian, "I'd drunk wine every day until I had a new knee in the new year. Each night since, my husband has said, "A glass of wine, Mary?" and I've said no. But I'm out with the girls tomorrow night and think I'd better get back to normal."

6) Mary Berry may be the picture of innocence on the front of her much-loved cooking books, but she's also a bit of a mischievous hell-raiser! The 80-year-old was once almost arrested for vandalising Paul Hollywood's car! Paul told Jonathan Ross, "I phoned her up. She said she thought it was marvellous. We'd been signing lots of books, so she'd decided to sign my car." Luckily Paul told the police he didn't want to press charges…

7) Mary Berry is a perfect lesson in modesty. After receiving a CBE from Prince Charles in 2012, the highly successful baker and business woman said: "I'm immensely honoured and proud but I couldn't have done it without the support 
of my family and friends."

8) We like a person who knows how to have a good time and let their hair down – and Mary is no exception! Mary went partying in Ibiza aged 71 for a friend's wedding and spent a night at infamous dance club Pacha. "There was every type of clothing you could imagine: mini skirts; some of them with hardly anything on!" she said in a Telegraph interview.

9) We love the fact that Mary refuses to slow down and firmly believes age is just a number – wishing to live life to the full! She said "Why should I retire 
when I love every moment?" You go Mary!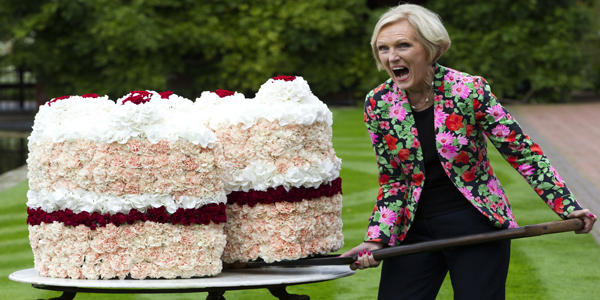 10) Finally, even though Mary is a frequent face on our TV screens and her recipes are many of our old favourites, the queen of the kitchen continues to surprise and delight us. For example, who else saw the karate chop technique Mary used to break up honeycomb coming? Not us!