Rustle up this delicious sausage dinner for your little devils this Halloween. Tray baked sausages are served with parsnips, apples, sage and covered a sticky but delicious marinade.

 

YOU WILL NEED:

8 good quality pork sausages

1 tbsp rapeseed oil

2 pink lady apples

Squeeze lemon juice

300g Piccolo parsnips, washed and trimmed

1 large red onion, peeled and cut into wedges

3 tbsp sage

 

For the marinade:

2 tbsp ketchup

1 tsp smoked paprika

Sea salt and black pepper

1 tbsp cider vinegar

1 tbsp chopped sage leaves

2 tbsp Worcestershire sauce

3 cloves garlic, peeled and crushed

1 tbsp soft brown sugar

 

Serves: 4

Prep time: 15 mins

Cook time: 50 mins

 

HOW TO MAKE IT:

1. Preheat the oven 180°C/350°F/Gas 4

2. Fry the sausages on all sides in 1 tablespoon of rapeseed oil until golden brown. Drain well.

3. In a large bowl mix together the marinade ingredients.

4. Cut the apples into quarters, remove the core and cut each piece in half, put in a bowl, squeeze some of the lemon juice over the apple pieces and reserve.

5. Place the browned sausages, Piccolo parsnips and red onion wedges in the marinade and coat well.  Place the sausage mixture in a roasting tray and roast in the oven for 25 minutes, then add the apple and coat well in the juices and roast for a further 15 minutes until cooked, keep basting well.

6. Serve with winter slaw, potato wedges and homemade ketchup.

 

Recipe: www.piccoloparsnip.co.uk

 

Like this? Try this: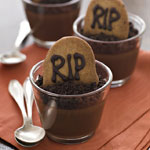 Tombstone chocolate pots. The perfect spooky pudding!