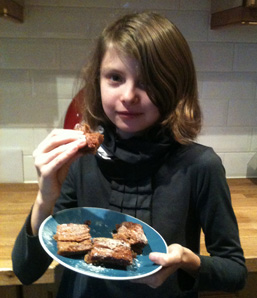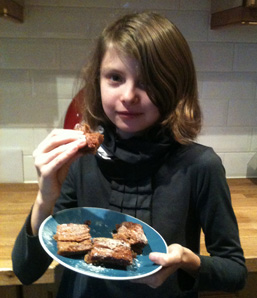 Bake a batch of heaven this weekend with our chocolate brownie recipe. These are ready to eat in 35 minutes.

YOU WILL NEED

 

2 ounces (60 grams) unsweetened chocolate, coarsely chopped
1/2 cup (113 grams) unsalted butter, cut into pieces
1 cup (200 grams) granulated white sugar
2 large eggs
1/2 teaspoon pure vanilla extract
1/4 cup (30 grams) all-purpose flour
1/4 teaspoon salt
1 cup (100 grams) chopped walnuts or pecans (optional)

Serves: 16


Cooking time: 30-35mins


 

HOW TO DO IT

Method
1.    Preheat oven to 325 degrees F (165 degrees C) and place rack in centre of oven.

2.    Butter and flour an 8 inch (20 cm) square baking pan.

3.    Melt the chocolate and butter in a stainless steel bowl placed over a saucepan of simmering water.

4.    Remove from heat and stir in the sugar. Next, stir in the vanilla extract and eggs. Finally, stir in the flour, salt and chopped nuts (if using).

5.    Pour into the prepared pan and bake for about 30 -35 minutes, or until a toothpick inserted in the centre comes out clean.

6.    Remove from oven and let cool on a wire rack. Serve at room temperature or chilled. These freeze very well.

References:
Colwin, Laurie. 'More Home Cooking'. Harper Collins Publishers. New York: 1993.

 

Tea + Chocolate = fundraising! Host a  Big Chocolate Tea Party during April and help raise vital funds for The Sick Children's Trust.