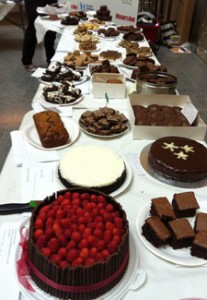 Hi everyone

Sorry I didn't catch you all at the end of last week, sadly I was at a funeral. However, I did partake in Weigh-Day Friday (or course) and I'd lost 1lb so I'm scratching back at the 2 I put on last week!  The funeral was tricksy though – all those platters of triangle sandwiches and mini scotch eggs floating around! But, I was a good girl and made sure I had a huge daddy-bear-sized bowl of porridge before I went so I wouldn't be tempted! And, yes believe it or not I volunteered to drive – so no voddie was consumed either.

On Saturday Charlotte and I cleared out part of the loft in preparation for our move – 20 years worth of stuff takes some serious sorting! We laughed, we cried and we cringed at some of the things we found. It took us practically all day so I added a well earned 476 calories to my exercise diary.

Today  Woman's Own hosted the Great Chocolate Bake Off to raise money for The Sick Children's Trust – there were over 60 amazing entries that were all individually  judged by The 'lovely' Boy Who Bakes, Ed Kimber and Chocolatier  Extraordinaire Paul A Young. The overall winner was a Chocolate and Ginger Tray Bake and we raised an amazing £604 for this fabulous charity!


Have good weeks! And remember – He who stuffeth . . . puffeth!
Suzanne  
Start following Suzanne's diet blog here