Delicious!
Creamy mushroom and prawn pasta

This filling recipe is perfect for those who need a delicious carb fix at the end of a long day. And it's so quick and easy to prepare.
What you need:
350g chopped mushrooms

2 crushed garlic cloves
225g thawed king prawns
150g fat-free natural fromage frais
Dried pasta shapes
What you need to do:
Spray a large non-stick frying pan with low-cal cooking spray. Add the chopped mushrooms and crushed garlic cloves and cook over a high heat for 3-4 minutes. Season to taste. Stir in the baby spinach leaves and the thawed king prawns and cook until the spinach has wilted and the prawns are cooked through. Remove from the heat, add 150g fat-free natural fromage frais and a couple of tablespoons of hot water, and stir until smooth. Spoon the prawn mixture over your favourite boiled dried pasta shapes to serve.
Why not test out this recipe tonight? The whole family will love it! Slimming World meals don't get much better than this. And if you want to add any extras, why not fill up on free food. You can also make an even bigger batch to see you through the week! So handy!

Hands up who loves pasta!

This easy bake costs under £10 and feeds a whole family!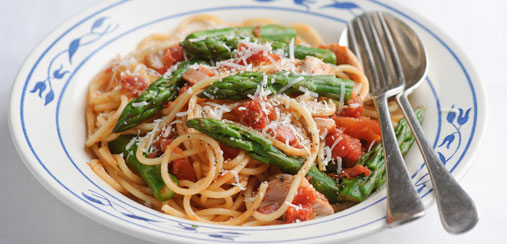 Ready in 20 minutes and a perfect way to sneak some veg into your family's meals!