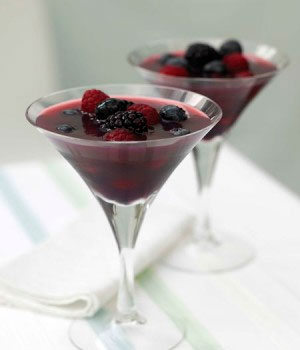 Wow your friends this weekend with our classy sloe gin berry jelly. They are quick and easy to shake-up, ready in 10 minutes for £2.40 each 

YOU WILL NEED

4 leaves (8g) gelatine

350ml sloe gin

200g mixed berries

100g granulated sugar

8 martini glasses



 

 

 

 

 

 

Serves: 8
Prep time:  10 minutes
Cost per serving: £2.40 

HOW TO DO IT

1. First pop a handful of mixed berries into each glass. Then soak the gelatine in a bowl of cold water to soften it. Meanwhile measure out the gin, sugar and 150ml of water into a pan and bring to the boil.

2. Remove the soaked gelatine from the cold water and dissolve it in the sugar and water mix. Once the gelatine has dissolved into syrup like liquid remove the pan from the heat and let it cool for a couple of minutes.

3. Pour the sloe gin into the syrup, give it a quick mix, pour into the serving glasses over the berries and chill immediately.