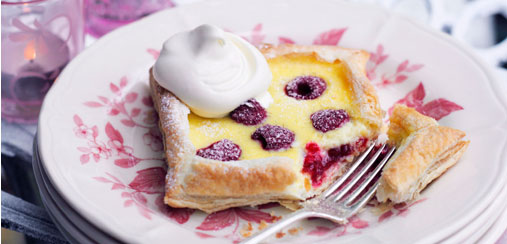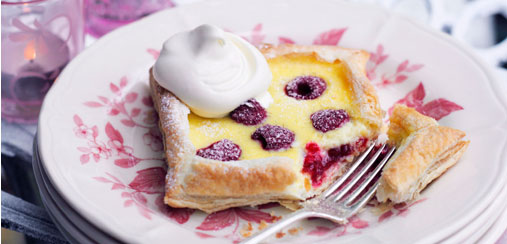 Step back into your childhood with these raspberry custard tarts. They only take 45 minutes to make and are ready in 94p, it's the cheapest time machine ever! 
YOU WILL NEED
375g pack ready-rolled puff pastry
6tbsp raspberry jam
500ml fresh ready-made vanilla custard
1 medium egg
150g raspberries
100ml double cream, whipped
Icing sugar, to dust
Serves: 6
Prep time: 10 mins
Cook time: 35 mins
Cost per serving: 94p
HOW TO DO IT
1. Preheat the oven to 220°C/Gas 7. Cut the pastry into six squares and score a 1cm border inside each. Prick with a fork and arrange on a baking tray. Bake for 10-15 mins or until pale golden and risen. Remove from the oven and turn heat down to 180°C/Gas4. Press down the middle of each square to create a case. Spread 1tbsp jam over the bases.
2. Whisk the custard with the egg and divide between the cases. Dot with the raspberries and bake for 15-20 mins, or until set.
3. Remove from the oven and cool. Sprinkle with icing sugar and a dollop of cream.
Not sure what to eat for your main course? Let us tempt you with a steak