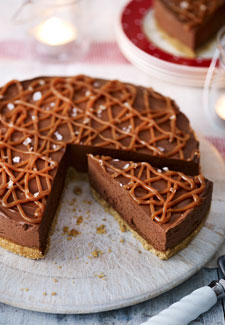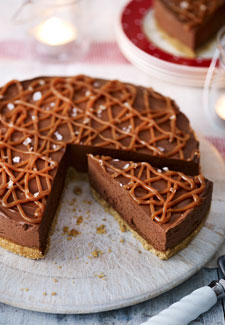 You will need 

300g digestive biscuits

100g melted butter

For the filling:

150g plain chocolate with at least 60% coca, broken up

3 large eggs, separated, plus 1 egg yolk

1tsp vanilla extract

4tbsp of brandy, dark rum or amaretto

3tbsp golden caster sugar

50g milk chocolate

 

Serves: 8-10

Prep time: 20 mins

Cooking time: 3–4 mins

Cost per serving: 36p

 

How to do it

1. Grease and line a 23cm loose-bottomed tin. Put the biscuits in a plastic food bag and crush using a rolling pin. Transfer the crumbs to a bowl, and then pour over the melted butter. Mix thoroughly, then tip into the tin and press down firmly to create an even layer. Chill for 1 hour.

2. Gently melt the chocolate in a large bowl over a pan simmering water (do not let the bowl touch the water). Mix all the egg yolks and vanilla extract in a bowl and stir into the chocolate, then add your chosen spirit.

3. Whisk the egg whites in a bowl until just beginning to stiffen, then gently whisk in the sugar to form a soft meringue – the peaks should be falling over. Gently fold the whites into the chocolate mixture and pour into the biscuit crumb case. Melt the milk chocolate then, with a dessert spoon, swirl over the top. Chill for at least 4 hours, until firm, before removing the tin and flaking a small amount of salt over the top.

 We suggest serving this with a delicious white cosmopolitan for an extra oomph this Christmas!