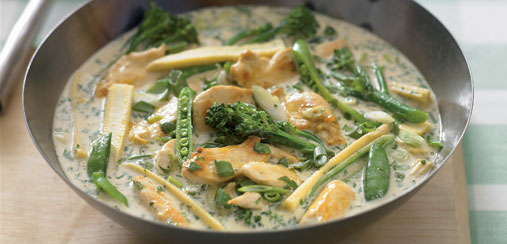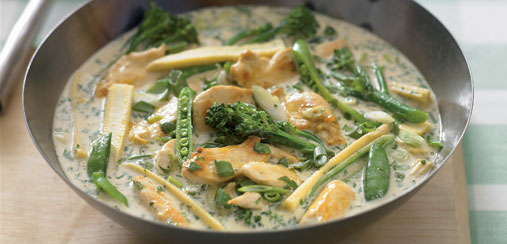 Taste Thailand for £3.29 with our quick and easy Thai-style chicken dish. Taking just 25 minutes from start to serving, you'll have time for dessert!

 

YOU WILL NEED

1tbsp groundnut oil

3tbsp Thai curry paste

160ml coconut cream

4 skinless chicken breasts, sliced

400g tin coconut milk

2tbsp Thai fish sauce

2tbsp soft brown sugar

100h mange tout

100g baby corn, halved

100g green beans, trimmed

Splash of hot chicken stock

Juice of 1 lime, plus extra wedge to serve

Large handful of fresh coriander leaves, roughly chopped

Jasmine rice, to serve

 

Serves: 4

Prep time: 15 mins

Cook time: 10 mins

Cost per serving: £3.29

 

HOW TO DO IT

1. Heat the oil in a large frying pan over a medium heat. Add the curry pasta and cook for 1 min, then add the coconut cream to the pan and cook for a further 2 mins.

2. Stir in the chicken, coconut milk, fish sauce, brown sugar, mange tout, baby corn and green bans.

3. Bring to a simmer and cook for 3-4 mins until the chicken is cooked through.

4. Add a splash of chicken stock to loosen the sauce if it's too thick.

5. Squeeze over the lime juice and sprinkle generously with the chopped coriander.

6. Serve with the lime wedges and jasmine rice.

7. This recipe is also great with prawns instead of chicken. Serve with rice noodles instead of rice.

 

Enjoy this thai-style chicken? Enjoy a raspberry and almond trifle for dessert.