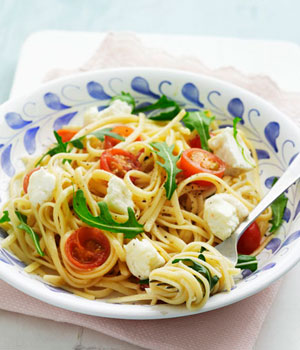 Indulge in a creamy pasta dish without throwing the diet out of the window! Our creamy linguine with goat's cheese and cherry tomatoes is ready in just 25 minutes
YOU WILL NEED 
400g linguine or spaghetti
90g goats cheese
handful of cherry tomatoes
1 tbsp olive oil
juice 1 lemon
2 egg yolks
3 tbsp crème fraîche
large handful rocket leaves
large handful grated parmesan, plus extra to serve, if you like

 

 

Prep time: 10 mins
Cook time: 15 mins
Calories per serving: 349
HOW TO DO IT
1. Cook the linguine. Meanwhile, cut the goats cheese into small pieces and slice the tomatoes into quarters.
2. Drain the pasta, reserving a little of the cooking water. Stir together the lemon juice, egg yolks and crème fraîche, pour into a warm pan along with the olive oil and Parmesan.
3. Mix the cooked pasta into the mix with tongs, adding a little of the cooking water, if needed, to make a creamy sauce that coats the pasta. Scatter the goats cheese and tomatoes over the and toss together lightly. Sprinkle with the left over Parmesan and enjoy!