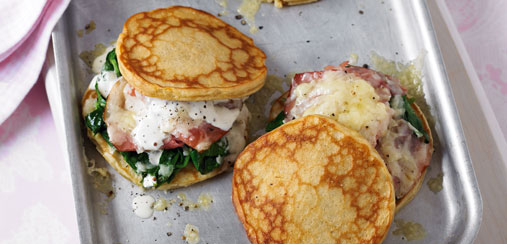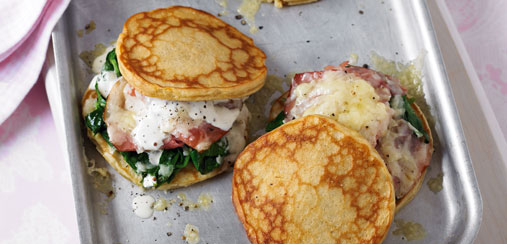 Don't limit yourself to simply sweet pancakes, this savoury pancake sandwich should be your new staple lunch option! Easily adapted for brunch or dinner, make sure you try this layered stack!

 

YOU WILL NEED: 

1 batch of classic pancake batter

mini frying pan (6cm diameter)

dash of oil

150g fresh spinach

100g wafer – thin ham

50g Emmental cheese slices

 

Serves 4

Prep time 10 mins

Cooking time 20 mins

 

Nutrition per serving

451 calories

24g protein

46g carbs (8.3g sugars)

20g fat (6.4g saturates)

2.9g fibre

1.6g salt

 

HOW TO DO IT:

1. Make up the batter. Pour a thick layer into the pan and cook. Wrap the pancake in foil and keep warm in the oven on a low heat. Cook 8 pancakes this way.

2. Add oil to a pan and wilt the spinach. Lay four pancakes on a lined baking tray then top each with spinach, ham and a slice of cheese. Pop back into the oven for 5 mins to melt the cheese.

3. Top each with the four remaining pancakes and if preferred serve with béchamel sauce.