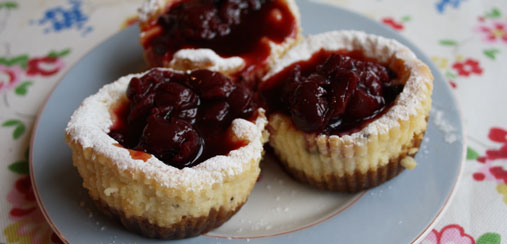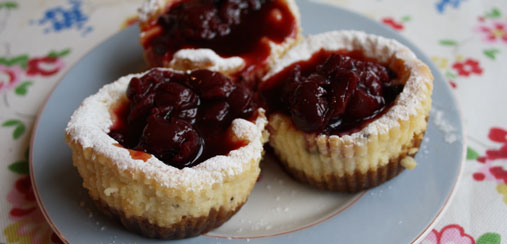 We're yet to find a cheesecake we don't like. These mouth-watering mini cheesecakes feature an indulgent lemon curd centre and are topped with truly juicy cherries. As they're mini, it means we can tuck into more than one in one sitting, right?

 

YOU WILL NEED:

1 jar English Provender Lemon curd

200g ginger biscuits

60g melted butter

500g cream cheese

250g mascarpone

100g caster sugar

2 eggs

20 cherries, pitted and simmered in a pan for 10 minutes with a splash of water (If not in season use 150g drained cherry compote -I use Bonne Maman, or tinned cherries)

 

Makes: 14-16 cupcake-sized cheesecakes

 

HOW TO MAKE THEM:

1. Preheat the oven to 180c. Crush the biscuits in a food processor and pour the melted butter over.  Mix well and spoon into the bottom of 14-16 cupcake cases set in a cupcake tin.

2. Using an electric mixer beat the cream cheese, mascarpone, lemon curd and sugar.  Add the eggs one at a time.  Beat until smooth and then pour over the biscuit base. Bake for 5 minutes and then lower temperature to 150c and bake for another 15-20 minutes. Turn off the oven but let them sit in the oven to cool for a bit. It will still be slightly wobbly but it will firm up in the fridge.  When cool, place the tin in the refrigerator.

3. When ready to serve peel off the cupcake wrappers and dollop each cheesecake with some cherries.