What a bargain!
Our tasty little twists and handy prepare-ahead tips will make the biggest meal of the year even more memorable. And all this for just £7.50 a head!
Sausage and cranberry thyme turkey

SERVES 8 PREP TIME 20 MINS COOKING TIME 1 hour 30 MINS
YOU WILL NEED
✽ 1 red onion, chopped
✽ 25g butter
✽ 1 garlic clove, crushed
✽ 250g good-quality sausages
✽ 2tbsp thyme leaves, chopped, plus extra for garnish
✽ 1tbsp sage leaves, chopped
✽ 2tbsp parsley, chopped
✽ Zest of 2 lemons
✽ 40g dried cranberries
✽ 1.5kg boneless rolled turkey breast joint
✽ 16 rashers streaky bacon
✽ Juice of 1 lemon
✽ 2tbsp olive oil
✽ 8 cocktail sausages
HOW TO DO IT
1 Heat the oven to 200°C/Gas 6. Fry the onion in butter for a few mins, add the garlic for 1 more and remove from the heat.
2 Remove the sausages from the skins and
tip into a bowl. Add the chopped herbs, lemon zest and cranberries, tip in the cooled onion and garlic
mix and stir well.
3 Remove the string from the turkey joint and cut the breast almost in half lengthways. Spoon the stuffing down the centre. Roll the breast up to enclose, top with half the bacon and secure with skewers. Put the turkey on to a large piece of strong, nonstick foil. Squeeze over the lemon juice, thyme garnish and olive oil,
season and wrap well.
4 Put into a roasting tin for 1 hour 30-45 mins (allow 20 mins per 500g, plus 20 mins). Insert a skewer to check the meat is cooked through and the juices run clear.
Roll up the remaining bacon rashers and add to the tin with the cocktail sausages for the final 15 mins. Allow to rest in the foil and slice to serve.
At the end of step 4, leave until cold, cover and place in the fridge. Can be prepared 1-2 days ahead.
Smoked salmon with beetroot and vodka creme fraiche

SERVES 8 PREP TIME 10 MINS
YOU WILL NEED
✽ 200ml tub creme fraîche
✽ 2tsp hot horseradish sauce
✽ 1tbsp vodka
✽ 1tbsp dill sprigs
✽ 250g pack small cooked beetroot (not in vinegar)
✽ 200g baby salad leaves
✽ 16 slices smoked salmon
✽ 50g salmon caviar
HOW TO DO IT
1 Mix together the creme fraîche, horseradish, vodka and some of the dill. Cover and chill.
2 Slice the beetroot and cut into thin matchsticks. Cover and chill.
3 To serve, divide the leaves between 8 plates, top with 2 slices smoked salmon, a spoonful
of beetroot, a dollop of crème fraîche mix, a little salmon caviar and a sprinkle of dill leaves.
Sticky ginger pudding

SERVES 12 PREP TIME 20 MINS COOKING TIME 2 hours
'The get-ahead tips really help me keep on top of things. Don't be afraid to add flavours, like bacon lardons to your roasties'
YOU WILL NEED
✽ 175g unsalted butter ✽ 175g light muscovado sugar ✽ 4 stem ginger balls, drained and chopped ✽ 100ml ginger wine ✽ 100g ready-to-eat dates, chopped ✽ 175g plain flour
✽ ½tsp bicarbonate of soda
✽ 1tbsp ground ginger ✽ 2tsp ground mixed spice ✽ 25g pecans, chopped ✽ 2 eggs, lightly beaten
✽ 3tbsp maple syrup ✽ Edible gold dust and stars ✽ Jingle bells and indoor sparklers, to decorate
HOW TO DO IT
1 Grease and line a 900g pudding basin. Put the butter and sugar into a large pan with the ginger, ginger wine and dates. Stir until melted. Cool for 5 mins.
2 Tip in the flour, bicarbonate of soda, spices, nuts and eggs. Stir until smooth. Spoon into the pudding basin, cover with a pleated piece of parchment and foil and secure with string.
3 Put into a steamer, resting over a pan of simmering water. Cover and steam for 1½ hours, topping up the base pan with water as needed.
4 Remove the pudding from the steamer, uncover and trim off the risen base of the pudding. Turn the pudding out on to a serving stand, brush with maple syrup and sprinkle with gold dust and stars. Top with bells and a sparkler to serve.
Get ahead: Complete to the end of step 3, allow to cool and keep in an airtight container for up to a week. Steam or microwave to re-heat, decorate and serve.
Buck's Fizz carrots

SERVES 8 PREP TIME 10 MINS COOKING TIME 15 MINS
YOU WILL NEED
✽ 500g Chantenay carrots, halved
✽ 50g butter
✽ 1 vegetable stock pot
✽ 2tbsp light muscovado
sugar ✽ 400ml Buck's Fizz
✽ 2tbsp chopped parsley
HOW TO DO IT
1 Put the carrots, butter, stock pot, sugar and Buck's Fizz in a pan. Cover and bring to the boil.
2 Remove the lid and simmer for 10 mins until the liquid is syrupy and the carrots tender. Sprinkle with parsley to serve.
Crispy sage roast potatoes and parsnips  

SERVES 8   PREP TIME 15 MINS COOKING TIME 1 hour 10 MINS
YOU WILL NEED
✽ 1.5kg even-sized potatoes, peeled and halved ✽ 500g parsnips, peeled and halved
✽ 175g goose fat ✽ 2tsp smoked sea salt ✽ Several sprigs of sage
HOW TO DO IT
1 Put the potatoes in one pan and the parsnips in another. Cover with cold salted water and bring to the boil. Cook the potatoes for 8 mins and the parsnips for 6 mins.
2 Drain and toss each in a colander to rough up the edges.
3 Heat the oven to 200°C/Gas 6. Tip the fat into a large roasting tin and heat for 4 mins. Tip in the potatoes and cook for 25 mins
(30 mins for frozen), turn and push to one end and add the parsnips. Sprinkle with salt and sage and cook for a further 30 mins until golden and crisp.
Get ahead: After step 2, spread on to 2 baking trays, cool, cover with cling film and freeze. Re-heat from frozen.
Stir fried Brussels sprouts with chestnuts

YOU WILL NEED
✽ 200g smoked bacon lardons
✽ 200g whole cooked chestnuts, halved (try Merchant Gourmet) ✽ 1kg Brussels sprouts, halved ✽ 2tbsp garlic olive oil
HOW TO DO IT
1 Fry the bacon lardons for 5 mins until crispy, then add the chestnuts.
2 Meanwhile, cook the sprouts in boiling water for 3 mins, drain and then plunge into cold water, drain again and cover.
3 Add the sprouts and garlic oil to the lardons and heat through.
Cranberry cassis red cabbage

SERVES 8   PREP TIME 15 MINS COOKING TIME 20 MINS
YOU WILL NEED
✽ 750g red cabbage, shredded
✽ 2 apples, cored
✽ 200ml cassis
✽ 2 red onions, chopped
✽ 100g golden caster
sugar
✽ 200g frozen cranberries
✽ 2tsp juniper berries
HOW TO DO IT
1 Put all the ingredients in a pan. Season with salt and black pepper, cover and simmer for 20 mins until everything is tender.
Allow to cool, and freeze in a zip-lock bag, defrost and warm through to serve.
Madeira wine gravy  

SERVES 8   PREP TIME 5 MINS COOKING TIME 10 MINS
YOU WILL NEED
✽ Turkey roasting juices ✽ 1 chicken gravy pot (try Knorr) ✽ 100ml Madeira wine ✽ 1tbsp cranberry jelly ✽ 1tbsp tomato purée ✽ 2tbsp thickening granules
HOW TO DO IT
1 Pour the juices into a jug. Discard the fat, add a gravy pot and water to make up to 500ml.
2 Pour back into the roasting tin, add the Madeira and bubble for a few mins. Add the jelly, tomato purée and granules. Whisk until thickened.
Read more…

Need some inspiration for the food lovers in your life? Sorted!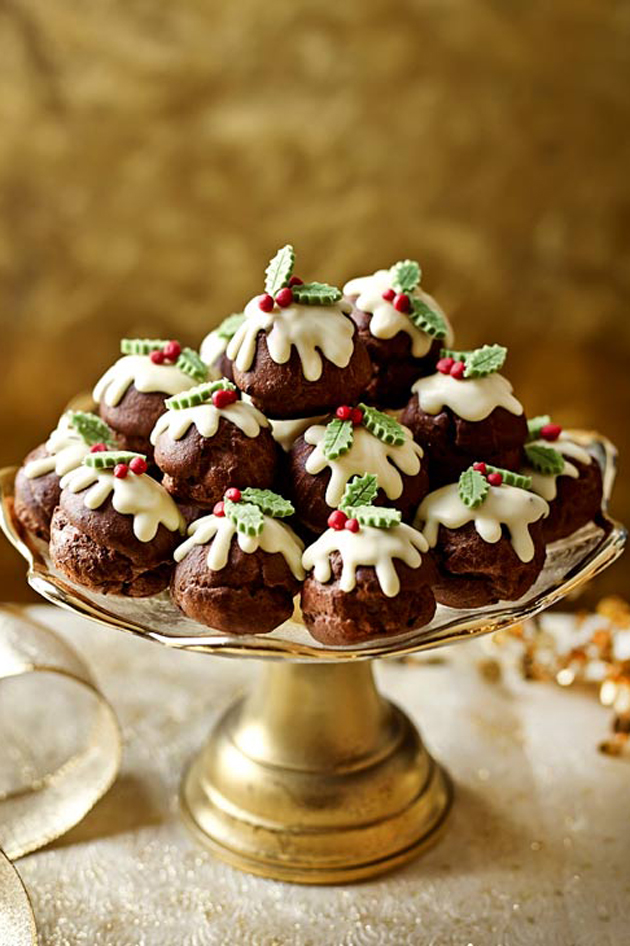 Do Stir-up Sunday in style!