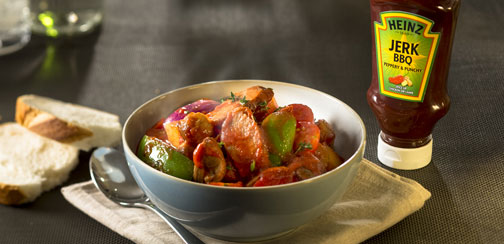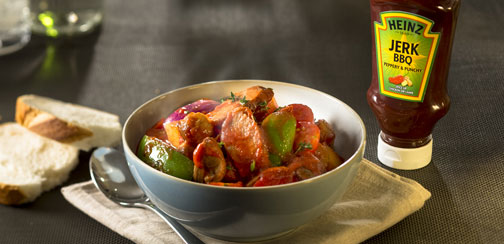 Perfect for all the family, this quick and easy BBQ sausage casserole couldn't be easier to make. Packed with sausages, new potatoes, peppers and more, it's flavoured with the delicious Heinz Jerk BBQ sauce to give it a real smokey kick.
YOU WILL NEED:
1 tbsp oil
500g new potatoes,cooked and halved
454g pack of sausages
1 onion, sliced
1 green pepper, diced
400g tin of Heinz Tomatoes
1 tbsp tomato puree
Heinz Jerk BBQ sauce
Serves: 4
HOW TO MAKE IT:
Heat the oil in a large frying pan and fry the potatoes and sausages for 5 minutes. Add the onion and pepper and cook for a further 5 minutes, turning the sausages occasionally until browned.
Add the tin of Heinz tomatoes, the tomato puree and 2 tbsp of Heinz Jerk BBQ sauce.
Cook until the sauce thickens and serve with crusty bread.