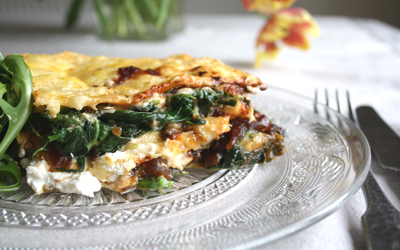 A veggie alternative to the classic Italian dish. This goats cheese, spinach and caramelised onion lasagne recipe is not only a dish which will get your tastebuds in a frenzy but it's also super easy and quick to make.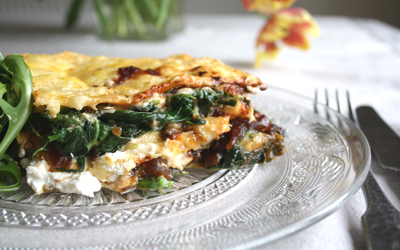 Serves: 2
Prep time: 20 minutes

Ingredients:
450g frozen spinach, defrosted

1/2 packet fresh lasgana sheets, about 125g

300g soft goat's cheese

7 tbsp English Provender Co Red Caramelised Onion chutney

1 large (or 2 small) jar ready-made pasta sauce, about 660g

50g grated parmesan or cheddar

Salad, to serve
Method:
Preheat the oven to 200C.

 Layer up a 15 x 20cm roasting dish with the ingredients.

Start with a 1/3 of the tomato sauce, then a 1/3 of the pasta, all the spinach, another 1/3 of the tomato sauce, another 1/3 of the pasta, all the goats cheese, all the chutney, the remaining pasta, the remaining tomato sauce and finally the cheese.

Bake for 20 minutes, or until cooked through and bubbling.
Quick Tip:

Serve with goat's cheese topped jacket potatoes