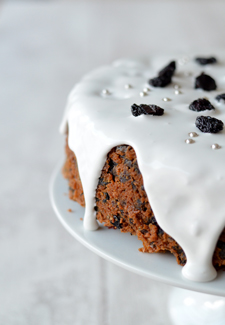 Fruits of the Forest Christmas Cake

 

Ingredients:
250g Urban Fruit Cheeky Cherry

250g Urban Fruit Super Blueberry / Blackcurrant

350g Urban Fruit Smashing Strawberry

320g raisins

500g currants

200ml Chambord raspberry liquor

340g butter, softened

340g soft brown sugar

6 eggs

450g self-raising flour

zest of 2 oranges

juice of 1 orange
Method:
Mix together all of the fruits in a large bowl. Pour over the Chambord liquor

Stir well, then cover and leave overnight

Beat together the butter and sugar until creamy

One at a time, beat in the eggs, adding a little flour after each addition

Mix in the soaked fruits, along with the soaking liquid and the orange zest and juice

Fold in the remaining flour, until all incorporated

Preheat the oven to 140°C

Grease a deep 20-24cm cake tin and line with baking parchment paper

Spoon the mixture into the prepared tin

Wrap a double layer of brown paper around the tin, standing approximately 5cm above the top of the tin

Lay a double layer of brown paper onto a baking tray and stand the cake on top. Bake for 3-4 hours, until an inserted skewer comes out clean – the cooking time will depend on the size of your tin and how deep the mixture is

Allow to cool completely in the tin before turning out
 

For more fruity bakes with Urban Fruit visit www.greatbritishchefs.com/stirupsunday-urbanfruit

Recipe by Helen Jessup at The Crazy Kitchen.