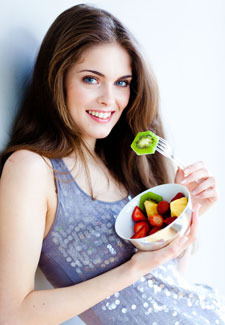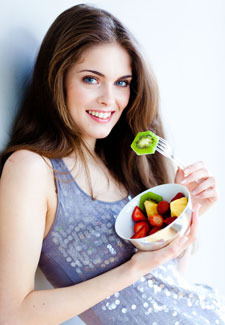 Whether you're in your 30s, 40s or 50s, we've got a meal plan to help boost your body and look great whatever your age.  

If you're in your 30s

It can be tough to balance a career and running a home. Grabbing food on the go means you may end up eating more but getting fewer nutrients – increasing your risk of weight gain and high cholesterol.

Your age less diet

Anti-ageing antioxidants – Vitamin A, C and E, found in foods such as sweet potatoes, red peppers and almonds, help fight wrinkles and reduce the risk of heart disease and cancer.

Iron for stamina – Being low in iron leaves you tired and breathless after even the briefest exercise. Opt for a diet rich in meat and leafy veg.

Three meals-a-day for energy – Fill up on veg, fruit, dairy and wholegrain bread. For dinner, cover three quarters of your plate with veg or salad and then add lean meat or fish.

 

If you're in your 40s

As you approach menopause, which hits at around 48-51, your oestrogen levels begin to drop off. You'll find your body begins to store fat around your middle – tummy and back – rather than hips and thighs.

Your age less diet

Protein to boost metabolism – The more muscle tissue you have, the more calories you'll burn. The key is protein – aim for 60-80g a day from a mix of lean meat, beans, peanut butter and dairy.

Good fats for heart health – Help your heart with a diet low in saturated fat and high in monounsaturated fat found in avocados, walnuts, and olive oil.

Salads to keep you going – In your forties you burn about 100 fewer calories a day, which equals 10lb excess weight a year. Eat low-fat, energy dense foods, like salads, vegetable-based soups and fat-free yogurt.

 

If you're 50 plus

You may be feeling in need of a little TLC especially as the menopause comes to an end. You'll have more energy and confidence than ever but you'll also notice more visible ageing. A stop-the-clock diet will make sure that you glow with health as well as energy.

Your age less diet

Boost-your-brain oils – Aid your ageing brain cells with a diet rich in medium-chain triglycerides (MCT), found in coconut oil. Research found that just a small amount of MCT a day slowed brain ageing. Other brain-boosting foods include almond oil, hazelnuts, walnuts, salmon and blueberries.

Nuts to plump skin – Healthy lean tissue under the skin will keep everything nicely plumped, so you'll need to ramp up the exercise and feed your muscles. Try hazelnut, Brazil nut or pumpkin seed butter on toast or crackers. Lean meat, fish and eggs are also good for building tissue.

Fibre to ease digestion – Your digestive system slows  with age so plenty of fibre is important. Oats, fruits and vegetables are easy to digest.

Calcium for strong bones – To keep your bone density levels up, have dairy calcium (yogurt, milk) three times a day.

 

For further information on our diet club, and to get a free 7-day membership, go to Woman's Own Diets.