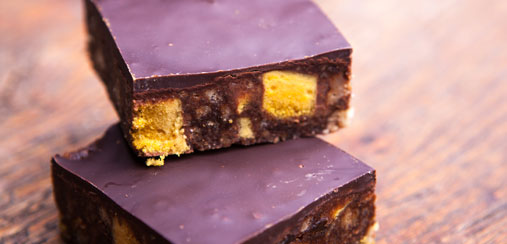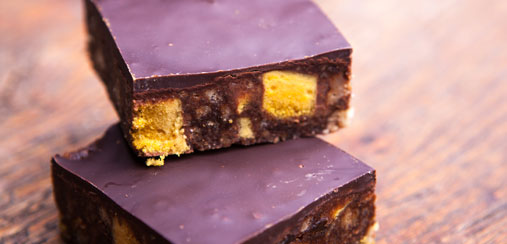 This traditional, chocolate fridge cake, has an extra special guest – Crunchie! The honeycomb chocolate bar is added to this super easy treat to make a chocoholic's dream!
YOU WILL NEED:
210g digestive biscuits
120g butter
65g golden syrup
30g dark muscovado augar
15g cocoa powder
55g sultanas (optional)
2 x 40g Crunchie bars
170g dark chocolate
18cm (7") Square tin – height at least 3cm.
HOW TO MAKE IT:
1. Line the tin with greaseproof paper. Place the biscuits in a plastic bag and seal with a clip or tie. Crush with a rolling pin so you get mainly crumbs but some bigger bits. This can be done in a food processor but be careful not to over mix.
2. Weigh the butter, golden syrup, sugar and cocoa powder into a medium pan and melt over a low heat. Stir regularly and when everything has melted and the mixture is just starting to bubble remove from the heat.
3. Stir in the crushed biscuits and sultanas.
4. Chop up the Crunchies into small bite-sized pieces and stir quickly into the mixture.
5. Pour the mixture into the prepared tin and flatten with the back of a spoon – you want it quite compact.
6. Allow to cool then melt the chocolate in a glass bowl over a pan of simmering water or in the microwave on low, checking regularly. Pour over the tiffin mixture, smooth out to cover then give the tin a little shake to get it nice and smooth.
7. Leave to set, cut into squares and enjoy.