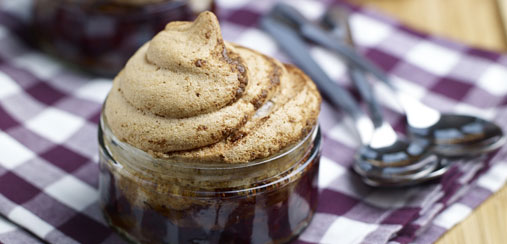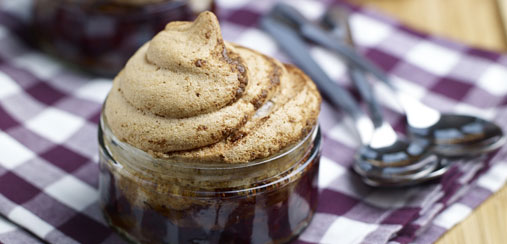 Our eyes grew a little wider when we first saw these indulgent bakewell meringues. Grab the amaertti biscuits and cherries and get whipping up this moreish dessert.
YOU WILL NEED:
8 Amaretti biscuits
For the compote:
250g cherries, stoned (fresh or frozen)
2tsp lemon juice
30g sugar
For the meringue:
2 egg whites
60g caster sugar
2tbsp Meridian Smooth Almond Butter
Makes: 4
HOW TO MAKE THEM:
1. Heat the oven to 160C/140C Fan/Gas Mark 3. Crush the amaretti biscuits and tip into the bottom of 4 ramekins or ovenproof bowls. To make the compote, heat the cherries, lemon juice and sugar, bring to a simmer and cook for 10mins until the cherries soften and the sauce becomes syrupy. Set aside to cool.
2. In a clean bowl whisk the egg whites to a soft peak, add half the sugar and continue to whisk till shiney. Add the remaining sugar bit by bit whilst whisking.  In a separate bowl stir a spoonful of meringue into the almond butter to loosen it then tip it back into the meringue bowl and fold in gently to create a ripple effect.
3. Divide the compote between the ramekins then pipe or spoon the meringue on top. Bake for 30mins until the meringue is puffed up and golden.
Recipe: Meridian