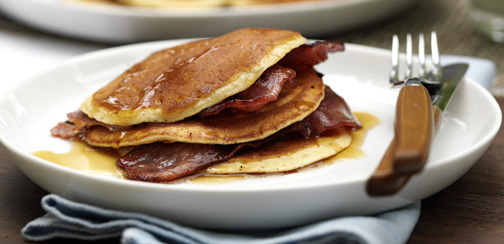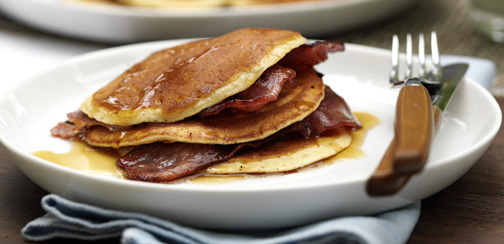 Sweet and salty and adorned with syrup, it's impossible to resist this bacon and maple tower. And at 50p per serving this recipe remains completely sin-free!

 

YOU WILL NEED:

1 batch of classic pancake batter

Mini frying pan (6cm diameter)

10 rashers streaky bacon

drizzle maple syrup

handful pecan nuts

 

Makes 8

Prep time 25 mins

Cooking time 15 mins

 

Nutrition per serving

276 calories

11.9g protein

23g carbs (4.4g sugars)

15.8g fat (4.1g saturates)

1.2g fibre

1.1g salt

 

HOW TO DO IT:

1. Make up the batter. Pour a thick layer into the pan and cook. Wrap the pancake in foil and keep warm in the oven on a low heat. Cook 8 pancakes this way.

2. In another pan, dry-fry the bacon until crispy. Stack the pancakes, layering with bacon and a drizzle of syrup. Sprinkle pecans on top and serve.