Fall into autumn with this tasty apple and cinnamon cake recipe for just 56p per serving! Serve warm with ice cream or custard. 

YOU WILL NEED

3 apples
113g unsalted butter, softened
150g caster sugar (plus 1 tbsp for sprinkling)
2 eggs
1 tsp vanilla extract
250g plain flour, sifted
2 tsp baking powder
1/4 tsp salt
1tsp ground cinnamon (plus 1tsp for sprinkling)
125g Rachel's Limited Edition Apple & Cinnamon Yoghurt

Serves: 8-10

Prep time: 15 mins
Cook time: 1 hour

Cost per serving: 56p

HOW TO DO IT

1. Preheat the oven to 170ºC/350ºF/Gas Mark 4. Grease and line an 8 inch round loose bottom or spring-form cake tin

2. Peel and core one apple before quartering and chopping into rough pieces. Take the other two  and keeping the skin on, take out the core and cut the remaining apple into thin slices. Set aside for a moment.

3. Cream together the butter, sugar and beat until light and fluffy. Beat in the eggs one by one before adding the vanilla extract

4. Add the flour, baking powder, salt and ground cinnamon. Stir well until these are all incorporated. Add the reserves apple pieces and the yoghurt and give the mixture a good stir.

5. Pour the mixture into the prepared tin and smooth the top, making sure it is level. Arrange the apple slices on top of the cake in a circular pattern.

6. Combine 1tbsp of caster sugar and 1tsp of ground cinnamon and sprinkle this over the top of the apple slices

7. Bake for 50 minutes/1 hour or until a skewer inserted into the centre of the cake comes out clean

8. Allow to cool in the tin before removing and transferring to a wire rack

 

Like this? Try this: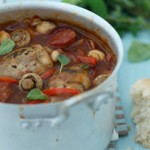 Low calorie recipes: Italian chicken casserole Super healthy stew that's ready in just 30 minutes!