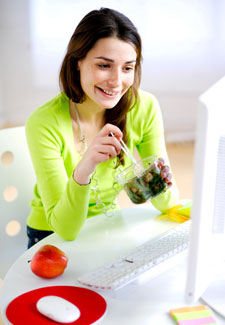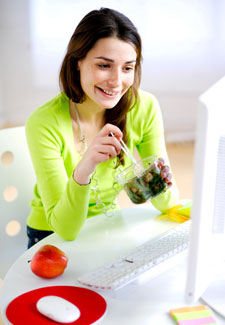 Grazing on unhealthy snacks at your desk? These easy tips could stop you piling on the pounds

1. Run a slimming club with colleagues. Weekly weigh-ins and recording your results on a spreadsheet can really get the competitive spirit going. Make it easy by using the food diary and calorie checker at womansowndiets.co.uk, where you'll find details of our free 7-day membership and more.

2. Don't tidy up crumbs or wrappers from food you've eaten at your desk straight away. Left lying around, they deter us from eating more, research shows.

3. Move any celebratory boxes of chocolates out of reach. A study has fond that office employees eat 125 more calories per day when sweets are placed on a person's desk, rather than on a filing cabinet just 6ft away.

4. Organise a twice-weekly lunchtime walk or go to an aerobics or Pilates class after work.

5. Walk up the stairs. Research has shown you can lose up to a stone over a year by avoiding the lift. And taking one step at a time instead of two or three uses up even more calories.