Love it or hate it, 50 Shades of Grey was the book everyone was talking about. 
And with 70 million copies of the trilogy sold world wide, the movie adaptation was also bound to receive some hype.
Most of this has been centred around the casting of the two central characters – sexually-damaged and ultimate alpha male Christian Grey, and the beautiful and innocent Anastasia Steele.
With so many fans of the book, casting can't have been easy.
So who exactly is it that they deemed good enough to play the roles?
Here's five things you didn't know about the film's most talked-about duo:
Charlie Hunnam – Christian Grey

1. Charlie is 33, five years older than Christian is supposed to be.

2. The actor shot to fame with a role in Queer as Folk playing 15-year-old Nathan Maloney, a newbie to Manchester's gay scene.

3. E L James certainly approves of Charlie, tweeting that he is 'gorgeous' and 'talented', breaking the news of the casting to fans.

4. Charlie's got plenty of experience playing an unsavoury character (I know you may love Christian, but let's not forget the Red Room of Pain) with a recent role playing bad-ass biker Jax Teller on Sons of Anarchy.

5. The actor was high on Universal's wish list. On August 20 TwitchFilm reported that he was filmmakers' top choice.
Dakota Johnson – Anastasia Steele

1. Acting runs in the family for Dakota, whose parents are Miami Vice star Don Johnson and Melanie Griffith.

2. The actress had to do a 'chemistry read' with producers' favourite Charlie to check they could realistically portray the characters' extremely sexually-charged relationship. Clearly they liked what they saw!

3. Other actresses turned down the role due to the full-frontal nudity it requires, but Dakota said she was 'willing to do whatever the role required'.

4. The actress is 23, only 2 years older than Anastasia is meant to be.

5. Dakota starred in TV series Ben and Kate. Unfortunately, the show failed to captivate viewers. We have a feeling her next project won't be forgotten quite as easily!
Do you think they're right for the roles? 
Like this? Try this: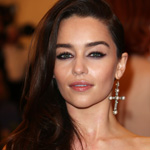 50 Shades of Grey movie – cast contenders Who will play Anastasia Steele?