Can't. Stop. Looking!
Model, reality TV star and (mega!) businesswoman, Katie has been married three times and has five children, Harvey, Junior, Princess, Jett and Bunny. She's rarely out of the limelight whether she's gaining column inches for her relationships or she's stepping out in a new daring outfit – Katie Price is a sassy, self made millionaire!
From her early modeling career to her famous marriage to Peter Andre, and her rise to reality TV stardom, these are Katie Price's most outrageous pictures ever!

In April 2016 Katie got her whole family involved, including her husband and children, at her TLC TV show launch of Katie Price's Pony Club! They were all dressed as ponies of course! WOW!


For her latest stunt, Katie Price, Glamour model, writer and entrepreneur launched her new app, which allows fans to see all of her social media feeds in one place… we're not sure how that links to this look exactly, but we admire the entrepenurial spirit!

Katie Price is playing Maleficent in a pantomime of Sleeping Beauty in 2015 – in yet another amazing costume! What do you think of her stage look?

Young and unaffected. Katie started modelling at the tender age of 16 and quickly went on to become a Page 3 star

The all singing, all dancing party girl 'Jordan' was born – big boobs, long legs, short clothes and lots of tan guaranteed colum inches.

Katie met Pete Andre during I'm a Celebrity Get Me Outta Here and the two got married in 2005. It's safe to say they loved the limelight. Just a tad!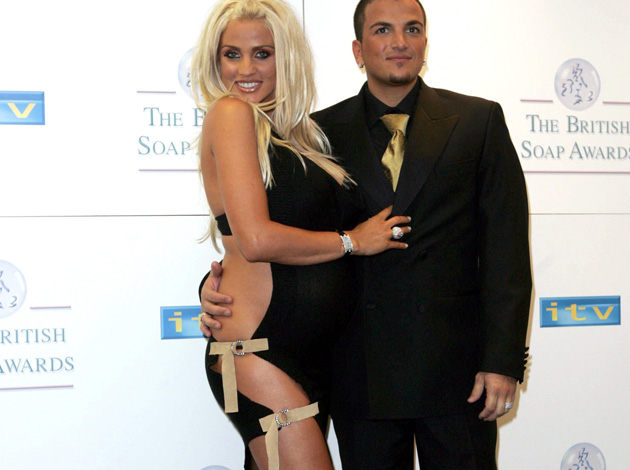 Remember when a heavily pregnant Katie wore THIS dress? Totally normal maternity wear – right?

Another event another look for Katie and cowboy Pete but this time we think she forgot something…her trousers maybe?!

Katie always loved to sing and wasn't shy when it came to her TV performances. Bleach blonde hair, big boobs, short skirt – tick, tick, tick!

Katie suffers a hair fail at an early book launch…we've heard of big hair but this is ridiculous!

What do you add to a white summery dress for a day out in London? Wings of course!

Katie dressed to impress when she and Peter met royalty – Prince Charles didn't know where to look!

Always a fan of big hair, big boobs, and even bigger meringue dresses, Katie worked her tried and tested look at yet another successful product launch for her latest fragrance.

Another year another book! Famous for her outrageous outfits at her book launches, Katie didn't disappoint in this low cut jumpsuit and tiara!

Most of us take a selfie on the beach on holiday but Katie takes pics like THIS! Just a normal holiday pose!

Katie brought along cross-dressing husband Alex Reid (her second marriage) to her new book launch and the press went wild!!! Gold leotard anyone?!

Only Katie Price can keep a straight face while dressed as a pink pony!!

Katie and third husband Kieran Halyer often share (sometimes semi naked of course!) regular selfies with her thousands of followers. All in a days work…