William and Kate celebrate their sixth wedding anniversary on Saturday. And as the royal couple prepare to mark more than half a decade together we look back at the things you may have missed as The Duke and Duchess of Cambridge prepared to say 'I do'.

Bottoms up
They may be one of the world's most famed royal couples, but that doesn't mean Wills and Kate don't enjoy a bargain or two. When it came to the big day, the newlyweds opted for a small price for their wedding breakfast. Toasting to their happy union they chinked glasses with a £30 a bottle non-vintage champagne from the family-run Pol Roger vineyard. Winston Churchill was also said to be a fan. And if it's good enough for former Prime Ministers….
A funky first dance

Whenever we think back to the royal wedding we imagine classical music wafting around a ginormous dining room and civilised conversation at every turn. Not so for royal rule breakers William and Kate. They drafted in chart-topper – and rumoured former flame of Prince Harry – to play a toe tapping medley of tunes from her own repertoire, as well as a few covers. For the first dance the loved up twosome swayed to a cover of Elton John's 'Your Song'.
Opening up about the magical night in an interview with Vanity Fair in 2016 Ellie said:
"I did their first dance and like, talk about scary. I was so nervous, my hands were shaking."
Other tunes included 'Mr Brightside' by The Killers, 'Superstition' by Stevie Wonder, 'You're the One That I Want' by John Travolta and Olivia Newton-John. And to get the party started there was also a rendition of 'Sex on Fire' by Kings Of Leon.
THE Kate Middleton Wedding Dress

All eyes were on Berkshire beauty Kate and she strode towards her handsome Prince. And the striking floor length gown designed by Sarah Burton for Alexander McQueen didn't fail to turn heads. Kate is said to have taken an active role in her dress design, asking the maker to ensure it reflected royal tradition and her modest sense of style. The Royal School of Needlework crafted Kate's lace and veil. And it was topped off with a Cartier halo tiara gifted to Queen Elizabeth and lent to her for her special day.

Chief bridesmaid Pippa Middleton also became the talk of the town in her Sarah Burton gown.
Kate's sis hit the headlines for her pert derrière.
Curated Coiffure


Kate's unique demi-chignon was crafted by James Pryce and Richard Ward. After months of planning and practice the bride-to-be finally gave her thumbs up to the style. The dynamic hairdressing duo started work on Kate's half up and half down do' at 6.30am on the morning of the wedding. And by 8.30am they had created their masterpiece. The pair's careful prep ensured not a single hair was out place for the whole of this historical event.
Date dramas
Kate and Wills tied the knot on April 29th 2011. The chosen date wasn't a hit with everyone, however. Plucky nine-year-old Bowen Pella-McDyre form Leamington Spa penned a letter to the Queen highlighting that the date clashed with her grandfather's birthday. Unfazed Her Majesty wrote back saying that she was "interested to learn" that Ray McDyre was set to mark his 78th year. Bless!
Details, details…
The private reception at Buckingham Palace was attended by 300 of the couple's closest friends. 30 tables glowed with pretty white flowers and candles, and table names such as "St Andrews" reflected significant moments in the couple's life.
Recollecting the evening a guest said:
"Each guest was given a small envelope before arriving with the name of their table on it. Each table was clearly name after places that were special to the couple and their friends."
When it came time to tuck into dessert, the Duke and Duchess of Cambridge weren't able to plump on just one sweet offering. Their solution? To have a trio of desserts instead. The mini-puddings included sherry trifle, chocolate parfait and homemade Berkshire honey ice-cream served in brandy-snap baskets. Delicious!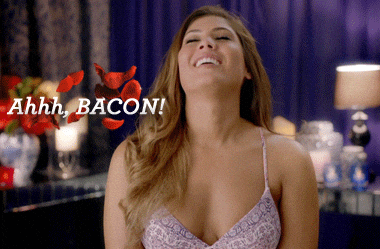 And as the night drew to a close, rather than carriages at dawn the royal couple arranged for guests to be served bacon sandwiches at 2am! We can't think of any better way to stave off a hangover!
So which is your favourite about the royal wedding? Join the conversation on the Woman's Own Facebook page. And share your views.
Say cheese

Nothing says royal wedding quite like a bespoke cheese or two. Created by Justin Tunstall "Congratulations Wills and Kate" and the cheekily named "Sod the Wedding – It's a Day Off" the moreish cheddars took pride of place in his Lyme Regis store. Surprisingly the latter sold out eight times faster than the former.
Let the bells ring out
Tradition dictates that church bells should ring out when a couple get hitched. And on the day the bell ringers of Westminster Abbey were put to work. They performed 5,000 changes to sing out a continuous bell ring for an impressive three hours! The thousand step change hadn't taken place since 2007. Talk about pulling out all the stops!
William and Kate's nuptials…and that's not all!
A bouquet for the brave

Designed by Shane Connolly Kate's wedding bouquet included hyacinth flowers for love, Lily-of-the-valley for happiness and Myrtle for love and marriage. Finally, there was sweet William for gallantry. And in a tradition started by the late Queen mother Kate's flowers were placed on the Grave of the Unknown Warrior at Westminster Abbey. Amazing!