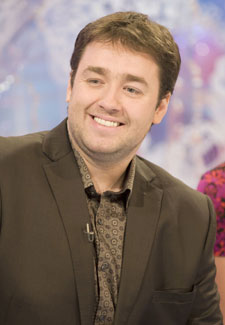 Comedian Jason Manford has separated from his wife Catherine, after six years of marriage.
According to pals the couple split last year, but had been keeping it under wraps.
A source said: 'They simply grew apart. There was sadness, of course, but there has been no bitterness and they are totally supportive of each other.'
Jason and Catherine, both 31, have three daughters, but the family were rocked by revelations that he was swapping saucy Twitter messages and making video calls to at least 12 female fans in 2010. He was caught out again in February of this year, texting a female pal.
However the source continued: 'Catherine and Jason are still good friends and their children are obviously the most important thing to them both.'