After 68 years of marriage no one can be in any doubt about the enduring love shared between the Queen and Prince Philip.
As the Queen celebrates her 90th birthday, a touching handwritten letter – penned by Her Majesty herself – has emerged, revealing how she and the Prince first fell in love. So sweet!

Written in 1947, the two-page letter reflects on the moment the then 21 year-old princess first met Prince Philip, the Prince of Greece and Denmark.
She writes:
The first time I remember meeting Philip was at the Royal Naval College, Dartmouth, in July 1939, just before the war. (We may have met before at the coronation or the Duchess of Kent's wedding, but I don't remember).

I was 13 years of age and he was 18 and a cadet just due to leave. He joined the Navy at the outbreak of war, and I only saw him very occasionally when he was on leave – I suppose about twice in three years.

Then when his uncle and aunt, Lord and Lady Mountbatten, were away he spent various weekends away with us at Windsor. Then he went to the Pacific and Far East for two years.
But while the young princess only met the prince a handful of times, they shared a passion for dancing and fast cars, which helped them to forge a close relationship that would eventually lead to the most memorable royal union of recent times.

According to the The Telegraph, the letter continues:
We both love dancing – we have danced at Ciro's and Quaglino's as well at parties.

Philip enjoys driving and does it fast! He has his own tiny M.G which he is very proud of – he has taken me about in it, once up to London, which was great fun.

We first started seeing more of each other when Philip went for a two-year job to the R.N Petty Officers School at Corsham – before that we hardly knew each other. He'd spend weekends with us, and when the school was closed he spent six weeks at Balmoral – it was great luck his getting a short job first them!
 Royal fans will also be delighted by the news – also detailed in the letter – that the prince played his part in designing a custom engagement ring for his future wife.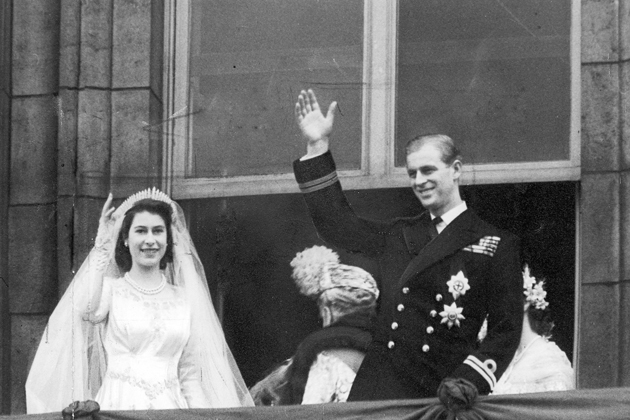 Queen Elizabeth described how, "The wedding ring will be made of Welsh gold, but not from the Craigwen mine. The engagement ring was made by Antrobus. Princess Alice took it in as Philip obviously couldn't but he designed the ring."
The letter – signed simply 'Elizabeth' – was sent to author Betty Shew in 1947, who in the same year was writing a souvenir book to mark the royal wedding.
It will go under the hammer at Chippenham Auction Rooms in Wiltshire on April 23 – alongside other other personal Royal Family items including Queen Victoria's knickers and chemise – and is expected to sell for as much as £1,200.
Principal auctioneer Richard Edmonds said: 'This is a wonderfully well-preserved letter written in the Queen's hand. It gives a fascinating glimpse into the life of the then Princess Elizabeth at what was such a significant time in her life."

Including her sweetest and most…

Their royal romance - in…

19 amazing (and brilliant!) facts…