As if we needed any more reasons to love cheeky Prince Harry, here are 10 times when the rogue royal proved he was a real life Prince Charming.
1. He's a natural with kids and doesn't mind showing off his softer side.

Seen here helping his cousin Zara Tindal, Harry is seen blowing raspberries on her daughter's neck trying making her laugh! From Prince to perfect uncle in just moments – Harry has a fantastic way with kids.

2. Prince Harry has set up two brand new charities so far. 'Sentebale', which was was established in 2006 with Prince Seeiso of Lesotho to help the children of the African country and 'the Royal Foundation' which he co-founded  with his brother William and his wife Kate in 2009. The charity focuses on young people, the armed forces, and conservation.
3. Prince Harry also masterminded the 'Invictus Games', which aim to use, "the power of sport to inspire recovery, support rehabilitation and generate a wider understanding and respect for wounded, injured and sick Servicemen and women". If helping others doesn't make him a real life Prince Charming, then we don't know what does!

4. He's a proper adventurer – and knows how to work in a successful team! While walking with a team of wounded vets to the North Pole on the 'Walking with the Wounded' project, Harry brought along a giant ice cream cake to share! Unfortunately, he had to leave the trek early to attend his brother's wedding (a small informal affair…not!) but when they took on the South Pole in 2013 he made it all the way. GO Harry!
5. Remember the time he came to the rescue of a lady who lost her hat after a gust of wind blew it off? He came to her rescue as he made a speech at RAF Honington in Suffolk. He stooped down to retrieve the hat and return it to its owner with a beaming smile. *swoon*
6. How about this precious moment when Prince Harry became a real-life Prince Charming to a tiny Cinderella? The Prince stepped in after a toddler lost her shoe during a meet and greet in a flood-ravaged Lancashire village and Harry popped it back on for her!
7. The moment when Prince Harry went to the aid of disabled athlete Anna Pollock after her wheelchair was blown over by high winds during the Invictus Games in Orlando recently. Anna was unhurt and after the incident she said, "He was so lovely to help me and he gives so much. He makes all the lads and the lasses feel important."
8. The touching moment when Prince Harry emotionally embraced Afghan veteran Kirsty Ennis for a very poignant reason… [read more]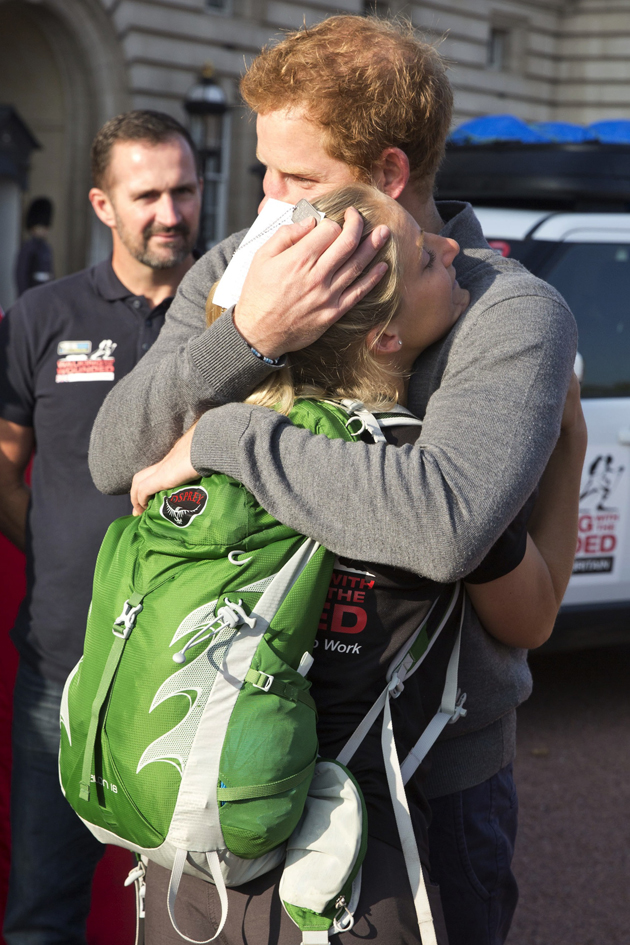 9. Prince Harry's lasting relationship that spans over a decade with the orphans he met when setting up his charity Sentebale in Lesotho, Africa, just goes to show was a caring individual he is!

10. When he wasn't afraid to get his hands dirty and his clothes covered in paint with his brother Prince William to help BBC's DIY SOS team build home for disabled ex-servicemen in Manchester!

Just like his mother, Diana, Prince Harry has a heart of gold and a truly gentle nature! Here's more reasons why we love this real life Prince Charming…

He will always be his mother's son!