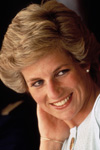 Apparently US billionaire, and business tycoon Donald Trump wooed Princess Diana with endless expensive flowers following her split from Prince Charles, it has been claimed.





Selina Scott told the Sunday Times that the businessman pursued the Princess of Wales as he thought he 'had a shot' with her, when instead she claimed he gave Diana, 'the creeps'! Oops!

Donald, who is now running for US president, sent Diana huge bouquets of flowers worth hundreds of pounds  – apparently her flat in London was full to the brim with roses and orchids! Diana was said to have confided in broadcaster Selina over dinner one night.





Writing in his book, The Art of the Comeback, Donald Trump said: 'I only have one regret in the women department – that I never had the opportunity to court Lady Diana Spencer. I met her on a number of occasions. I couldn't help but notice how she moved people. She lit up the room with her charm, her presence. She was a genuine princess – a dream lady.'





Mr Trump, 69 is reportedly worth $4billion and remained friends with Diana over the years. And even though we think it would have been a strange pairing we think what he said about Diana was true – she did light up a room and can see why he wanted to take her out! We wonder what other men felt the same about the late Princess…

MUST-SEE! Never seen before photos from Princess Diana's wedding day

Is this Jennifer Aniston's wedding dress? Has it finally been revealed?