They're moving! Plus, William gives up a very important role...
Kensington Palace has issued an update about The Duke and Duchess of Cambridge's plans for 2017. In a statement released earlier this morning, which includes a quote from Prince William, the palace revealed that the family-of-four are in for a big change this year.

When we think of Prince William, we probably imagine him smiling and waving at cheering crowds. Probably dressed in his official uniform. Maybe standing next to the Queen with Kate and his adorable children in tow.

However, for the past two years, the Prince has been working as a pilot with the National Air Ambulance. William has always said how incredibly, "proud to serve" he was with the East Anglia Air Ambulance, and it is a role away from royal life that he has really cherished.
An entirely different side to Prince William was displayed when the BBC offered a look inside the trauma team where Prince William works last year.
Shown online on the BBC website as part of National Air Ambulance Week, the Duke of Cambridge was filmed talking about his work and about the team he flies with for the East Anglian Air Ambulance.

Prince William has loved planes and the prospect of flying ever since he was a little boy. An interest that seems to have rubbed off Prince George. [SEE MORE PICTURES HERE]

The Prince earned his wings as a search and rescue pilot with the RAF. He served between 2009 and 2014 before it was announced he would train to be an air ambulance pilot.
Quite apart from the 'Prince William work shy' rumours, the documentary shed light on the hard work and emotionally challenging missions the Duke and his team face on a daily basis.
I look forward to coming here every day, whether it's 5:30am or going to bed at 2am. The shift work is exciting… And the fact that I love working in a team. That's something that my other job doesn't necessarily do.

– Prince William
Not only does the job provide William with a worthy cause to work towards on a weekly basis, but it allows him to spend more time with his family out of the spotlight. In addition, it also offers him a slice or normality. "When I put my air ambulance hat on, and I come here and I fly, I'm one of the team," says William.
However, his days as an air ambulance pilot and the slice of normality it grants him are now over. William's contract as a pilot for the East Anglian Air Ambulance comes to an end today.
In a letter written to his colleagues, William thanked them for the last two years and praised their hard work and dedication.
"As I arrive for work at East Anglian Air Ambulance this evening, my last shift with this incredible team, I wanted to say thank you to my colleagues, team mates and the people of East Anglia who I have been so proud to serve."
"Over the past two years I have met people from across the region who were in the most desperate of circumstances. As part of the team, I have been invited into people's homes to share moments of extreme emotion, from relief that we have given someone a fighting chance, to profound grief."
Prince William described himself as 'grateful' to his colleagues for, "accepting me so readily" and treating him as any other member of the team, regardless of his royal title.
He concluded the letter: "As I hang up my flight suit, I am proud to have served with such an incredible team of people, who save lives across the region every day."
In the update released by Kensington Palace, royal officials explain, "HRH will finish his role with the EAAA in the summer in line with his commitment to fly with them for two years."

The reason for leaving his flying duties behind is Prince William is set to take on more of the Queen's and the Duke of Edinburgh's responsibilities and duties from April. The Duke of Edinburgh is retiring from public life and official duties on August 2nd. Her Majesty has begun stepping down as patron of more than 20 national organisations following her 90th birthday last year.

Currently, Prince William's royal duties have been scaled back due to his role as a pilot. William works around 80 hours a month with the charity, with shift patterns usually working out at four days on, four days off. CAA rules dictate that 800 hours is the maximum flying time in a 12-month period.
In addition to his work with the charity, last year William spent 80 days on official royal engagements. In comparison, Prince Philip, 95, carried out official meetings and visits on 110 days of the year. Prince Charles spent 139 days on public engagements. The Duchess of Cambridge will also be increasing her royal workload. Kensington Palace revealed, "Their Royal Highnesses are keen to continue to increase their official work on behalf of The Queen and for the charities and causes they support."

However, Prince William isn't set to step up to more royal engagements immediately. A source revealed to The Sunday Times that William is worried about over-shadowing his father, Charles.
A friend confessed, "Some people may question why William still won't do as much as Princess Anne."
"He sees that Charles will probably be in his seventies before he becomes king and he doesn't want to be seen as elbowing his father out the way."
Meanwhile, William and Kate are also planning their move back to London [READ MORE HERE]. They will relocate to apartment 1A at Kensington Palace ahead of Prince George starting school in September.

The move to London will thrust the whole family further into the media spotlight. Kensington Palace confirmed the news. "The Duke and Duchess will increasingly base their family at Kensington Palace. Prince George will begin school in London in September and Princess Charlotte will also go to nursery and eventually school in London as well."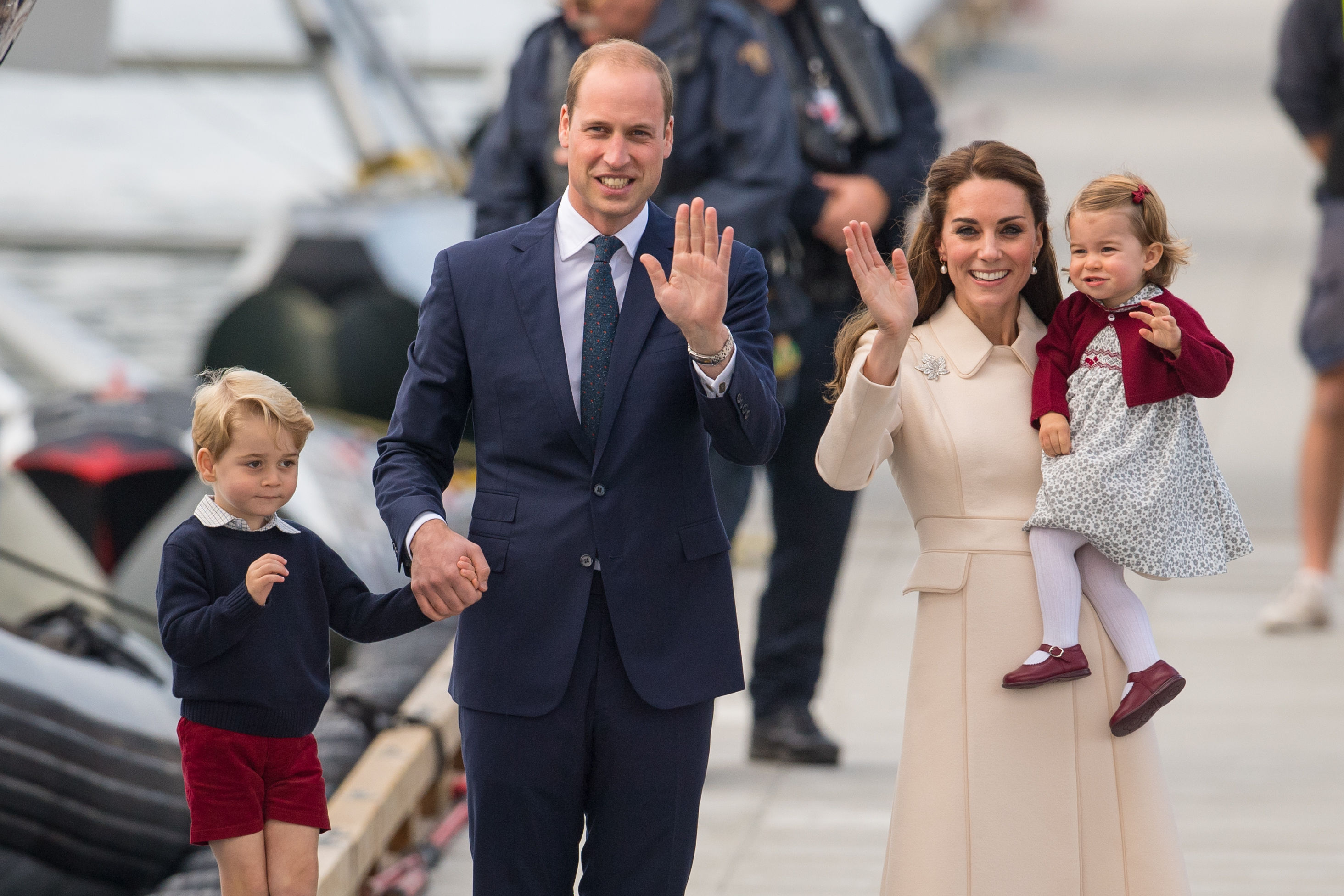 Like William, Kate has also tends to shy away from public attention. The Duchess only had visits and meetings on 63 days for the royal family last year. She also took part in royal tours to India and Bhutan, and Canada [CLICK HERE FOR PHOTOS]. The Duchess is expected to increase her workload for the royal family in light of the Queen's scaled back schedule.

Part of the Duke and Duchess of Cambridge's official work this year has already included trips overseas. The couple have just returned from an official visit to Poland and Germany at the request of The Foreign and Commonwealth Office with Prince George and Princess Charlotte. Plus, the couple took an official trip to Paris earlier this year too. The trip to Paris would no doubt have been difficult for Prince William, as this year marks 20 years since his mother, Princess Diana, died in a horrific car crash in the city.

READ MORE: 
The Duke and Duchess of Cambridge will be 'increasingly' based at their official London residence. However, the young family aren't quite ready to give up the peace and privacy of their country abode. Kensington Palace revealed, "Their Royal Highnesses love their time in Norfolk and it will continue to be their home."