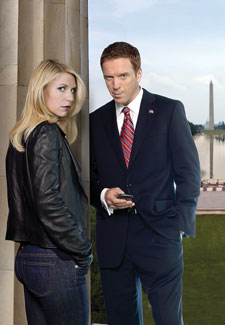 Since sweeping the Emmy Awards last week, Homeland has become the show on everyone's lips.

If, like us, you were hooked on the first series earlier this year, you'll know to expect twists, turns, and lots of jaw-dropping moments.

But if you're coming to the drama fresh and wondering what all the fuss is about, let us fill you in.

Former US Marine Nicholas Brody (Damian Lewis) is suspected by bipolar CIA agent Carrie Mathison (Claire Danes) of being turned by his kidnappers in Afghanistan. But which side can be believed?

Without giving too much away, while some answers were given at the end of the last series, there are still plenty of mysteries surrounding the pair to be solved. Unmissable.

Homeland is on C4 tonight at 9pm.