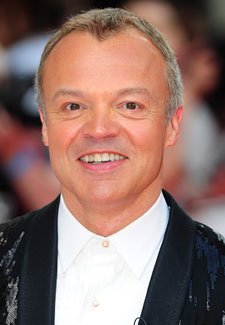 We know you can't always rely on the British weather to behave itself, so here's the best of the weekend viewing (just in case…).

5. The Graham Norton Show, BBC1, Friday, 10.35pm – While always entertaining, the best thing about Graham Norton is he knows how to put his guests centre stage. Tonight promises the extra treat as Downton Abbey's hunk Dan Stevens is on, he'll be talking about his forthcoming movie Summer.

4. The Returned, C4, Sunday, 9pm – If Scandanavian noir was the big thing last year, this year promises to be the year of the French supernatural thriller, starting with The Returned. In the first of an eight-part series, a group of teenagers who died many years before return to their village, uninjured, with no memory of ever having died in the first place. Spooky and atmostpheric.

3. Britain's Secret Homes, ITV1, Friday, 9pm – We love having a nosy look around someone else's home, and this series promises to indulge that guilty pleasure to the max. Michael Buerk and historian Bettany Hughes search for the 50 most intriguing dwellings in the country, from a gothic 'house of horrors' to a house built out of a train carriage.

2. The Voice, BBC1, Friday, 7pm and 9.30pm, repeated Saturday, BBC3, 7pm – The Voice might not have won the ratings war against Britain's Got Talent this year, but there are some very special singers still left in the competition. All 12 artists will perform in tonight's two-hour special, with one from each team going through to the next round.

1. Britain's Got Talent: The Live Final, ITV1, Saturday, 7.30pm – All the hopefuls will find out their fate tonight, from impressionist Francine Lewis to gravel-voiced singer Jordan O'Keefe. Last year's competition was won by a performing dog, but who will triumph this time? Don't miss it!